Posted Mon Jul 21st by Monty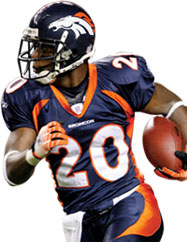 Updated 4:06 PM – Mike Bell wasn't feeling too god about his job security earlier today. We first reported that Bell told CBS4 Denver's Gary Miller that he expected to be released when he met with Head Coach Mike Shanahan today; those fears were confirmed today. The Denver Broncos have released Mike Bell after two seasons.
Playing fullback last year after some success at tailback in 2006, Bell rarely saw the field and even fumbled the ball on one of his few carries in 2007. The re-signing of Cecil Sapp and the use of a 7th round draft choice on Peyton Hillis all but guaranteed Bell would have a difficult time making the team.
Including rookies, the Broncos now have 81 players on their roster; one more player will have to be released before they can sign all of their draft picks.
No surprise here, I didn't think Bell had much of a chance to make the team in the long run either way. At least this gives him time to try to latch onto another team, although the crop of free agent running backs out there will make it difficult. The Texans would likely give him a look, but who knows.