Posted Mon Jul 21st by Monty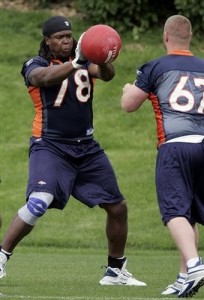 For the latest Denver Broncos Training Camp news and notes, check out our home page,  updated multiple times daily!
The 2008 Denver Broncos report for training camp this Thursday, July 24, with practices beginning at 8:30 11:15 AM on Friday. For the 2008 rookie class, it's an introduction to their new teammates, as well as life in the NFL. With some of the base offense and defense packages installed in mini camps, the team begins a broader and more focused exploration of the playbook. They'll become more familiar with the speed and physicality of the NFL (along with their teammates' pads).
In part 2 of our 5-part series, we'll take a look at every single rookie (drafted or undrafted), see what their chances are of making the team or breaking into the starting lineup, and then speculate on what we can expect from them during the season.
Monday – Rookies
Tuesday – Special Teams
Wednesday – Offense
Thursday – Defense
Drafted
Ryan Clady, OT, 1st Round
Ryan Clady was the player I targeted for the Broncos before the draft, and I couldn't be happier that we ended up getting him 12th overall. A fierce blocker with a mean streak and great footwork, Clady is expected to provide an upgrade over veteran Matt Lepsis, who retired after a difficult 2007 season. He comes with experience in a zone blocking system similar to the style the Broncos currently employ, giving him an edge on the learning curve. The starting left tackle position is his to lose, and while we can anticipate that he'll struggle and make rookie mistakes from time to time, I still expect him to have the biggest impact of any player the Broncos added this season, rookie or otherwise.
Prediction: Clady will start at LT all year and significantly improve the offensive line

Eddie Royal, WR, 2nd Round
From the moment the Broncos drafted him, the buzz around Eddie Royal was all about special teams. The Broncos are counting on Royal to be an ace returner, and have already indicated he will be working with both the kick and punt return units during practice. At first it seemed like this is where Royal would have his biggest impact in his rookie season – now, rumor has it that the coaches have been impressed with Royal in mini camps, and they'll give him a chance to win the #2 wide receiver job from the likes of Darrell Jackson, Samie Parker, and Keary Colbert.
Prediction: While it's exciting to hear he's been impressive thus far, I still think he'll be resigned mostly to special teams in year one. I'm expecting a few punt returns for touchdowns and limited snaps with the offense.
Kory Lichtensteiger, C, 4th Round
Kory Lichtensteiger, the first of two Broncos fourth round picks in 2008, is not expected to do much on the field this season, and his training camp will reflect that. Expect Lichtensteiger to soak up the playbook as he practices as the third string Center while recuperating a nagging shoulder injury that mildly hampered some of his practices during mini camp. Barring a series of injuries, he won't see the field in 2008.
Prediction: Learn all he can while warming the bench. Some special teams work.
Jack Williams, CB, 4th Round
This little guy will remind many fans of the fallen Bronco who shares his surname. Jack Williams is similar in height and weight to Darrent Williams, and provides insurance for the Broncos as the 5th cornerback option. With Domonique Foxworth and Karl Paymah both set to become free agents this year, the Broncos have flexibility beyond 2008 in their contract negotiations. Barring injury, he'll learn the defense as a backup this year.
Prediction: Learn all he can while warming the bench. Plenty of special teams work.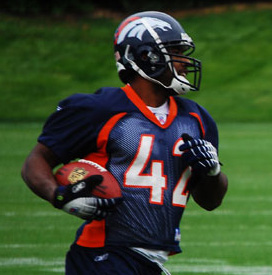 Ryan Torain, RB, 5th Round
Ryan Torain enters an interesting situation with the Broncos. The main concern will be keeping his foot healthy after he sustained a Lisfranc sprain last year. After undergoing a new type of experimental surgery that significantly reduces the recovery time, Torain claims he is ready to go. The Broncos have preliminarily named Selvin Young the starter, but if Torain impresses he could steal snaps from last year's leading rusher.
Prediction: Will be the team's #2 behind Young.
Carlton Powell, DT, 5th Round
Carlton Powell specializes in stuffing the run, something the Broncos desperately need in 2008. Compared often to DeWayne Robertson, Powell will likely see quite a bit of game time in the DT rotation this year. I expect him to make the active lineup most every week this year.
Prediction: Will see the field early and often
Spencer Larsen, LB, 6th Round
As I said in his bio (click his name to view), Larsen is an interesting guy in my eyes. The Broncos insisted on trying him out at fullback during mini camps. To me, and this is just speculation, that tells me that was their intention when they drafted him. Now they've announced he'll be back at linebacker, and I don't think he has a roster spot locked up. For one, the competition at the position will be fierce (9 guys on the roster now, with only 6 spots traditionally). He'll have to really perform well on special teams to knock the likes of Louis Green off the roster.
Prediction: Really hard to say at this point. He's a hard worker and a real smart guy. I think he'll make the team and play special teams this year.
Josh Barrett, S, 7th Round
After signing two free agent safeties this offseason, the Broncos don't need 7th round pick Josh Barrett to see the field on defense much this year. With Hamza Abdullah and Marlon McCree only signed through 2008, he could very well be a starter next year though.
Prediction: He'll see plenty of work on special teams and will also likely see the field on defense during the second half of the year.
Peyton Hillis, S, 7th Round
Among rookies, only first round pick Ryan Clady has more potential to break the starting lineup as early as Hillis does. A perfect fullback for the West Coast offense, Hillis brings a pass-catching threat the Broncos haven't had at the position in years. If he can improve his blocking (rumor has it he's already bulking up, gaining 10 lbs.), he can be a real impact player for the Broncos early and often. What a steal.
Prediction: I'll go on record now and say he WILL top the depth chart at fullback by opening day.
Undrafted
Note: Undrafted rookie kicker Garrett Hartley was released today.
Anthony Alridge, RB
A smaller back who brings a special edge to special teams as a returner. Will likely be a practice squadder, but I'd guess he'd be one of the first players to be promoted to the active roster in the case of injury.
Mitch Erickson, G
Erickson is a bubble player who will have to really impress to make even the practice squad. I'm guessing he'll be a camp cut.
Brett Kern, P
Kern will compete with Sam Paulescu for the punting duties this year.
Tyler Polumbus, OT
The tradition of undrafted tackles out of Colorado/Colorado State continues with Polumbus. He'll make the practice squad this year, and the Broncos will cross their fingers he won't get picked up (there were many teams inquiring about his services just after the draft). If Pears doesn't show improvement from last year, I'd expect Polumbus to make the roster in his stead.
Lorne Sam, WR
In a crowded wide receiver competition, Lorne Sam would have to really, really shine to make the team. He has some physical tools that really catch the eye (he rushed for over 400 yards at 5.7 ypc on top of his receiving stats for his career). Virtual lock to make the PS – we know Shanny loves his wide receiver projects.
Wesley Woodyard, LB
Woodyard was insanely productive in college, and I'm really excited about the prospect of him on the field. Could make the team, even over 6th round pick Spencer Larsen.