Posted Sat Jul 19th by Monty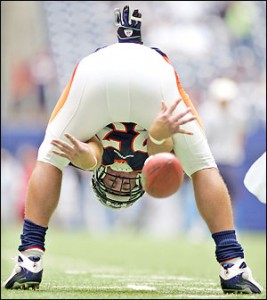 Name: John Michael Leach
Height, Weight: 6'2″, 240
Position: Long Snapper/Tight End
Age, Experience: 31, 9
College: William & Mary
Mike Leach joined the Denver Broncos as a free agent in November, 2002, and has been the club's designated long snapper ever since. An undrafted free agent tight end originally with the Tennessee Titans, Leach has never caught an NFL pass, but has contributed 25 special teams tackles in his years with Denver. Leach holds the distinction as the only Broncos player to have played in every regular and postseason game over the past five years.
The Good: Leach is a master of the forgotten art in the NFL. His hand placement is perfect. The velocity he places on the ball is exquisite. He places the football comfortably in the placeholder's zone and with considerable spin. He is a God of the Gridiron. Mike Leach totally pwns.
The Bad: He's a long snapper.
Status: Potential Hall of Famer. Will retire in Denver Broncos lore as the most significant player in the club's 40+ year history. Signed through 2009.
As always, we invite you, the readers, to partake. Is Mike Leach the greatest thing since sliced bread, or the greatest thing since the forward pass?

Loading ...
We hope you enjoy these posts as BroncoTalk continues to develop the first fan-powered Denver Broncos roster on the web.