Posted Wed Jul 16th by Monty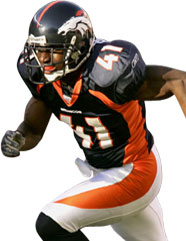 Denver Broncos cornerback Karl Paymah was found guilty today on charges of driving under the influence and careless driving, the Denver Post reports. The charges stem from a March 2006 incident in which Paymah was found intoxicated and unconscious about 50 yards off an Arapahoe County road.
Sentencing is scheduled for September 16, with a maximum penalty of one year in jail.
The Denver Broncos declined to comment on the case.
A third round draft pick by the Broncos in 2005, Paymah is set to become an unrestricted free agent after the 2008 season.
Settle down, he's not going to jail for a year. I doubt Roger Goodell takes action for a two year old DUI, either. He might do some time, though, and his sentencing is set for early in the season. We'll keep an eye on it.