Posted Wed Jul 16th by Monty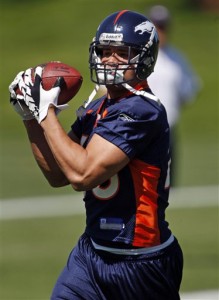 The Denver Broncos and 2008 draftee Peyton Hillis agreed to terms on Tuesday, making Hillis the fifth draft pick the Broncos have signed this year. Per club policy, terms of the deal were not disclosed.
Hillis, a fullback from Arkansas, was drafted by the Denver Broncos in the seventh round (227th overall) of the 2008 NFL Draft. At Arkansas, Hillis plowed the way for two tailbacks who became first round picks: Darren McFadden by the Raiders, and Felix Jones by the Cowboys. Hillis also made marks of his own, earning school records for career receptions, reception yards, and reception touchdowns among running backs, as well as single season running back records in receptions and reception yards in 2007, leading his entire team in those categories.
The Broncos have now signed all of their draft picks in the 5th, 6th, and 7th rounds. They will continue to work on the 4 remaining rookie contracts before the players report for training camp on Thursday, July 24, 2008.
Among seventh round picks, Hillis' opportunity is rare: he has an opportunity to compete for a starting job with incumbent FBs Cecil Sapp and Mike Bell.
I really like this kid – I'm glad we got this deal done. He has great hands, and just needs to work on his blocking to earn the starting spot. Your thoughts in the comments.