Posted Tue Jul 15th by Monty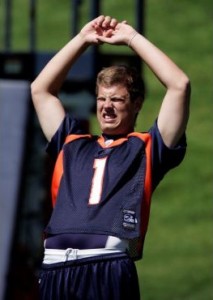 Name: Brett Kern
Height, Weight: 6'3″, 205
Position: Punter
Age, Experience: 22, R
College: Toledo
Brett Kern is an undrafted free agent punter who joined the Denver Broncos as a rookie in 2008. A four year starter for the Rockets, Kern came on strong in his senior campaign, and will provide competition for incumbent Sam Paulescu, who punted for the Broncos in one game last season.
The Good: Kern's senior year was very impressive, where he tallied the second highest gross punt average in the nation with 46.1 yards per punt. His efforts earned him a nomination as a finalist for the Ray Guy Award (given to the nation's top punter). Kern was also named the Mid-American Conference Special Teams Player of the Year. Kern placed roughly one third of his punts inside the opponent's 20 yard line, a fine average. This Brett Kern highlights video of practice is worth a watch, as well.
The Bad: Before his senior year, Kern was mostly ho hum. He averaged 40.6, 39.5, and 41.7 gross yards per punt in his three seasons before 2007. Some scouting reports questioned his technique, consistency, and ability to kick off.
Status: Competing for starting job. Signed undisclosed contract April 2008. Kern has a fair shot at the starting punter job – the Broncos haven't given the job to either he or Paulescu, and they are willing to let the best man win. Brett Kern was born on Feb. 17, 1986, in Grand Island, NY.
As always, we invite you, the readers, to partake. Does Kern's 2007 campaign give you comfort, or are you worried he could be a one-year wonder?

Loading ...
We hope you enjoy these posts as BroncoTalk continues to develop the first fan-powered Denver Broncos roster on the web.