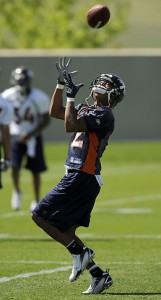 Pro Football Weekly has a blip up on their AFC West Rumor mill section about the possibility of Samie Parker not making the team due to the logjam at receiver.
Sources in Denver say Broncos WR Samie Parker needs to carve out a role in the passing game fairly quickly if he wants to make the team. With Brandon Marshall, Keary Colbert, Darrell Jackson, Eddie Royal and Brandon Stokley appearing to be roster locks, Parker could very well be the odd man out by the end of training camp.
As we saw in the daily links, Glenn Martinez may also have trouble securing a roster spot.  I think that could be an even greater shame; to cut a player who showed a good bit of improvement last season and was productive on the field in key situations.  If you factor in how well Royal is supposedly geling with the Broncos it becomes a tough battle to make the receiving corp this season.