Posted Sun Jul 13th by Monty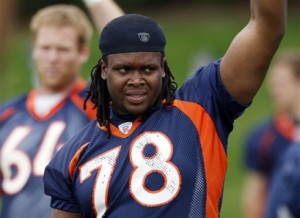 Denver Broncos first round pick Ryan Clady is a good fit for the team in a number of ways. Not the least of which is his relative silence – something Broncos offensive linemen have practiced with pride for a decade. The soft spoken Clady may not blow you away in an interview, but he's showing talent on the field, already earning the teammate-dubbed nickname "Sweet Feet."
Perhaps Ryan Clady prefers doing his talking on another field: the softball field. The Boise State Broncos held a charity offense vs. defense softball game Saturday, and as you might expect, trash talking and hilarity ensued. In fact, Clady was actually ejected from the game.
Hamdan hit a grand slam in the bottom of the third inning, but that was not the highlight of the third. That honor went to Ryan Clady, a first-round NFL draft pick the Denver Broncos this spring. Clady was tossed from the game by the umpire after arguing a close call at first base. Speedy receiver Austin Pettis beat out the throw to first and Clady came out of the dugout bumping the ump and trying to pull first base out of the ground.

Earlier in the game Clady came out to console Shawn Bingham, who was charged with an error playing first base.

"One of our players just doesn't know what he's doing out there," Clady joked between innings. "If he can't make it, he'll just have to be replaced."

The game was not devoid of trash talk between the two units, which repeatedly taunted each other with often comical and near-tragic results.
I also try to remove pieces of the floor whenever I don't get my way, to mixed results.
Boise State offense prevails over defense in charity softball game [Times-News]