Posted Fri Jul 11th by Monty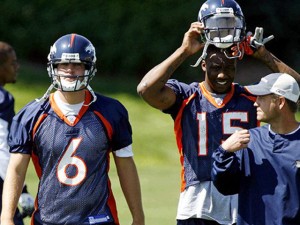 The 2008 offseason saga of Brandon Marshall has been one for the ages.
A March arrest goes unreported for nearly four months. Later in March, Marshall severely injures his right forearm in a freak accident in Florida, requiring surgery and months of recovery. The injury doesn't slow his spirits – Marshall still predicts a 100-catch season, and begins catching passes ahead of schedule.
Later on, the extent of his rap sheet is detailed, and rumors of a possible suspension begin to mount. His DUI trial (stemming from an incident last season) is continually postponed. The aggressive investigations of the Denver Post don't help his case, especially when a mere traffic ticket is treated as front page news.
Despite it all, Denver Broncos Head Coach Mike Shanahan stands by his wide receiver, saying he still believes in Marshall as both a player and a person.
"Brandon has a good upside and he's a real good kid. I feel very good where Brandon's at. I think he'll be fine."
Marshall's best defense for his actions is that the vast majority of his run-ins with the law are directly related to his ex-girlfriend, Rasheedah Watley. He claims he never laid a hand on her, and that he's the victim in the entire situation. Watley and her lawyers vehemently deny Marshall's story.
"He's had problems with one person over and over again," Shanahan said, "and hopefully he's smart enough to stay away from her."
Quarterback Jay Cutler also showed his support for Marshall. Both teammate and coach were participating in the American Century Championship at Edgewood Tahoe Golf Course this week.
"I just hope he gets his act together, cause it'd be a shame for him to waste all that talent," Cutler said Thursday. "Brandon's a great guy. I'd do anything for him, but he's running into some trouble in the past, and hopefully we'll move past this and get things straightened out and have a good season."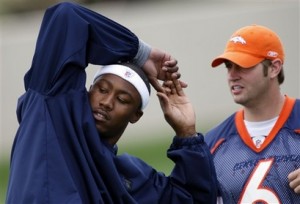 Marshall has pledged to do better and not get into any more trouble with the law, but his recent incident (where he allegedly passed two cars by using the shoulder on I-25), while certainly not front page news, is still a sign of immaturity and unwillingness to change. He's showed improvement in other areas, though: Marshall has been generous with his time, giving to fans and participating in community service in the Denver area.
The question remains – the same question we ask you in the poll on the main page – will Brandon Marshall be suspended? Should he be?
Facing a twisted game of He Said, She Said, it's unlikely that NFL Commissioner Roger Goodell can make a decision regarding a suspension either way without a deeper investigation of those incidents.  The nature of the complaints make that nearly impossible, so the latest rumor currently making the rounds in NFL circles is that Goodell will wait for the results of Marshall's DUI trial in September before deciding his football fate. If found guilty, sources close to the situation expect Goodell to suspend Marshall for "at least one game." If found innocent, Marshall could walk scot-free – at least, until the next load hits the fan.
In the end it all comes down to the DUI trial in September. Assuming the rumors are true, this means two things: 1. Marshall will definitely be suiting up for our week one matchup against the Raiders. 2. If cleared, Marshall will likely dodge all league-imposed penalties. It's a lucky break for Broncos fans, and I'm not sure how I feel about it. I mentioned before I thought it might do Marshall good to sit out a few games and think about his actions. If he dodges this bullet, I just hope he still learns his lesson and doesn't mess up ever again.
Related Stories: