Posted Mon Jul 14th by Monty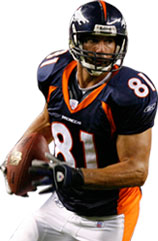 Name: Nate Jackson
Height, Weight: 6'3″, 235
Position: Tight End
Age, Experience: 29, 6
College: Menlo
Nate Jackson joined the Denver Broncos originally as a wide receiver via trade from San Francisco in 2003. An undrafted free agent with the 49ers in 2002, Jackson was resigned to the practice squad in 2003 upon his trade to the Broncos and spent 2004 with limited time outside of special teams work. He switched positions to tight end during the team's 2005 training camp, playing in two games that season and recording no statistics. In 2006, Jackson played in 11 games and caught five passes. In 2007, he earned his first career start against San Diego, then quickly injured his groin and went on IR. He had caught his first touchdown pass two weeks earlier against Jacksonville.
The Good: Jackson has been a backup and special teamer for a long time for the Broncos, but he has yet to make a significant impact on the field. He has showed bits and pieces of promise, but those have been few and far between. 2007 was his best year, earning his first TD and first start, but even then he immediately injured himself, ending his season.
The Bad: Jackson has never played an entire 16-game season, and has yet to make a large impact on either the offense or special teams. Many fans, including myself, wonder why the Broncos re-signed Nate Jackson to a two-year, two million dollar deal this offseason. His nagging injuries have to be considered a red flag.
Status: Backup. Signed through 2008. I was fairly surprised when the Broncos re-signed him in March. Now I want to see a pay off for Mike Shanahan's faith in him. Nate Jackson was born on June 4, 1979, in San Jose, CA.
As always, we invite you, the readers, to partake. Are you excited about Nate Jackson in 2008, or expecting more of the same?

Loading ...
We hope you enjoy these posts as BroncoTalk continues to develop the first fan-powered Denver Broncos roster on the web.