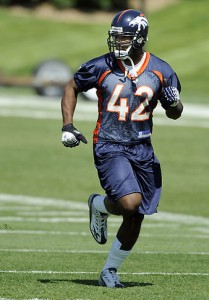 Ryan Torain is ready to take his place among Davis, Gary, Anderson, Droughns, Bell, and Young.  Williamson has an article up on ESPN I've been waiting for since the Broncos drafted the Arizona State runningback.  Ryan was elated in the 5th round when his phone lit up with the 303 area code knowing it was Denver.  "Running Back heaven was calling".  I love that phrase, I think we need to use from here on out.  Torain knows how special it is coming to the Broncos as a runningback.  No matter how far you are down on the depth chart, or where you were drafted, you will fit in the system and produce as long as you carry a work ethic.  For this reason; Travis Henry came to Denver, too bad he didn't have the discipline to make the most of it.
Williamson compares the Broncos drafting an h-back in the 5th round to any other team drafting that position in the second.  The evidence is there to prove it.  A fact that came out in this article is that the Broncos used the 5th round pick acquired from the Raiders signing Gerard Warren last August.  How great would it be if Torain ended up taking rookie of the year over the highly touted Darren McFadden with their own draft pick?  It could happen, if either Selvin doesn't keep that 5.2 yards per carry, and/or Pittman isn't the power runner we're looking for.  Torain could easily step in to fill those gaps, it's been noted that he is picking up the scheme quickly.  The Broncos situation is a good one to have.
Ryan would've been drafted much higher if not for his fractured toe problems his Junior and Senior year.  The kid is a bruiser with good lane vision and downhill running style.  He has the intangibles to get on the field this season, it's not a question of if, but when.
I leave you with a quote:
"It's all in front of me," Torain said. "I just have to do the right things and hard work and great things can happen for me in Denver."