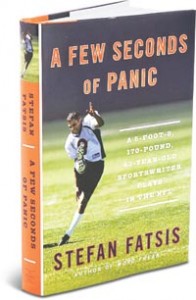 Check out this article over at the Wall Street Journal about sportswriter Stefan Fatsis.  I don't remember hearing anything about this guy back in 2006.  The Broncos let him come onto the team as a kicker during training camp that year to report what it's like to go through the ordeal as a pro football player.  A la George Plimpton – The Paper Lion.  Fatsis played soccer growing up, got into the best shape of his life and tried to compete in training camp.  He has written a book about it titled A few Seconds of Panic.  Here is the summary from the article:
In 2006, Stefan Fatsis persuaded the Denver Broncos to allow him to join the team at its summer training camp as a placekicker, becoming the first writer to suit up for a National Football League camp since George Plimpton in 1963. In this excerpt from his new book, "A Few Seconds of Panic: A 5-Foot-8, 170-Pound, 43-Year-Old Sportswriter Plays in the NFL," he's called on to kick in front of the full team for the first time.
I love the story about Mike Shanahan calling him onto the field the first time to kick an actual practice winning field goal.  The guys getting time off during camp were riding on his kicks.  I'm going to have to go pick this one up, the personal stories of our players seem to be the most interesting part of this.  Watch the video to see what I'm talking about.  The stuff with Meadows and Kyle Johnson seem fairly deep.  Shows you who on that squad seemed like great guys to be around, Ferguson and Veal to name a few.