Posted Tue Jun 24th by Monty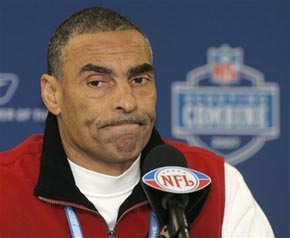 Smack Talk Week continues on BroncoTalk, celebrating the inefficiencies and inferior qualities of everythiing non-Broncos in the AFC West.  Remember it's all in the name of good, clean fun, no personal attacks, and you can dish it in the comments.
Today we're exploring why the Kansas City Chiefs suck, and there's just oh-so many reasons.  It was hard to narrow it down to five, but I did my best.  Enjoy.
One trophy forty years ago aint so hot, either – Yesterday I made sure to rub it in to Chargers fans that their team is the only Lombardi trophy-less squad in the division.  Well, the Chiefs aren't doing too much better, winning their only trophy in Super Bowl IV in 1969.  They haven't even returned to the Super Bowl since.  Just shy of forty years without a Super Bowl berth… that's a long, proud history of mediocrity right there.

You Play To Win The Playoffs – Super Bowls aside, the Chiefs are a proud franchise. This brave organization must have at least a few playoff victories to show for its merits, right? Wrong. Since winning Super Bowl Numero Quatro, the Chiefs have a won a grand total of three playoff games. In 38 years. All three occurred during the three year span of 1991-1993. The Chiefs have been one-and-done in the playoffs in their five playoff berths since.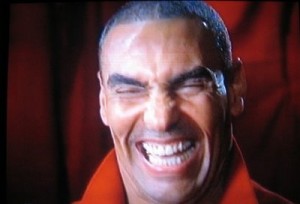 Embrace the Rebuilding – I still have no idea how any coach, player, or fan can really appreciate the fact that this team has decided to rebuild. They've gone public with it. They've told the media, "This is a rebuilding team." TRANSLATION: We suck. Seriously. I'm sure there a few football coaches out there. I was a volunteer assistant coach for a few years. How do you go up to a football player of any age and say, "Try really hard, but if we don't win, aw shucks, it's okay, we're just rebuilding." ??? Please fill me in here people. I cannot possibly understand how the Chiefs coaching staff expects their players to give anything near 100%. Once word got out that the team needed to rebuild last year, they packed it in, losing 9 straight to close the season! Brilliant move, fellas.
OMG Our Draft Ruled!!1! – You guys keep celebrating your April victory, which wasn't the good anyway. Meanwhile we'll focus on winning something during the only part of the year that means something: September through February.
Shrewd Lessons in Quarterbackery – When your division rival's quarterback has won more games in your home stadium than your quarterback has (Jay Cutler 1, Brodie Croyle 0), you know you're in trouble. What's even funnier? You're giving him another chance! It seems in their hurry to rebuild the team, they forgot about the most important position, and will go another season with Croyle and backup Damon Huard duking it out. Should be fun.