Posted Mon Jun 23rd by Monty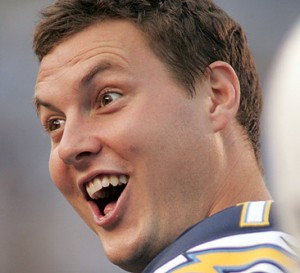 It's Smack Talk Week at BroncoTalk, celebrating the inefficiencies and inferior qualities of everything non-Broncos in the AFC West.
Just a quick reminder – this is all in the name of good, clean fun – no personal, individual attacks on each other and you can have at it in the comments.
Today I'm breaking down the San Diego Chargers, giving you five reasons – in no particular order – why they are pretty much the trash of the National Football League.  Enjoy!
Look at all the trophies – The Kansas City Chiefs, Oakland Raiders, and, more recently, the Denver Broncos all have a bit of bling to boast in their trophy cases.  The Lombardi Trophy is proudly displayed in each city, a mark of championship teams past, and proud symbol for each organization's history.  For all the wins the San Diego Chargers have earned in the past few years, it means NOTHING – I repeat, NOTHING – compared to a hard-earned NFL Championship.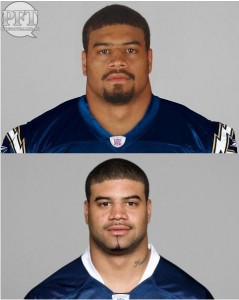 Tainted supplements my ass – Suspended for four games after a tainted supplement left you testing positive for steriods, eh Shawne Merriman? Last season, the photo comparison on the right gained notoriety, showing how athletic Merriman is without chemical enhancements. The results were noticed on the field too – the video has been taken down, but we showed the brutal block that Jaguars tiny RB Maurice Jones-Drew executed against Merriman that left his ass on the floor. Let's see how well you do for a few seasons, "supplement" free, before we anoint you the next Lawrence Taylor.
UPDATE: Apparently the top photo was doctored (actually the body of Jamal Williams).  Still, just look at the neck (not photoshopped).  And the working YouTube can be found here.
Grouchy, grouchy, grouchy – Are there bigger crybabies in the NFL? Every time they lose, all you see are pictures like this – Ladainian Tomlinson giving his quarterback an odd, frustrated look. Way to facilitate team unity, LDT. Even your own fans (see sig) are tired of your whiny antics.
A Team to Win Now – Time is running out, Chargers fans. Last year San Diego decided to keep Michael Turner on their roster, believing it was a team ready to "win now." Well they didn't. They were rumored to have declined a first round pick, and Turner is now elsewhere. Because they wanted to "win now." Meanwhile, they overcompensated to pull off a trade for Chris Chambers last season the day of the trade deadline, giving up a 2nd round pick. Because they wanted to "win now." Well, "now" is over, that season has gone and past, and the Chargers have to be left thinking that if they don't make a run this season, their chance to win their first Lombardi trophy is likely over. They have an overrated QB, a getting-older RB coming off injury, and an offensive line that didn't show enough consistency to make me believe they can get the job done.
In conclusion, winning a Super Bowl is tough enough… most teams most overcome injury, weather, bad luck, and, of course, the best opponents in the NFL to taste the Lombardi trophy. Unfortunately for the San Diego Chargers, most teams don't have to overcome this as well:
Norv Turner. Enough said.