Posted Sun Jun 22nd by Monty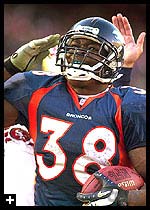 Running back Mike Anderson has always been a fan favorite since his rookie campaign.  Earning Rookie of the Year honors as a 27-year old straight from the Marine Corps., Anderson stayed with the team for years, playing any position the team needed.  His willingness to play special teams (injuring his groin during the 4th quarter of a preseason game in 2004) and fullback for most of his career in Denver after his sensational rookie campaign left a soft spot in many fans' hearts.  His own numbers be damned – Anderson was all about whatever it took for the team.
In 2005, Anderson saw a chance to recapture that glory as tailback and did so well, rushing for over 1,000 yards and helping the Broncos reach a 13-3 record and a berth in the AFC Championship game.  He joined the Baltimore Ravens in 2006 and 2007, making little impact and seeing limited game time, before being released this offseason.  Now as a free agent, news broke late Friday that Anderson has been suspended from the NFL for a violation of the league's substance abuse policy.  Anderson was previously suspended for 4 games in 2003 for a similar violation.
Here's a Mile High Salute to one of my favorite, under-rated Broncos of the past decade, in what is very likely career-ending news.  Thanks for everything Mike, you're the best, and we wish you a very happy life away from football.