Posted Thu Jun 19th by Monty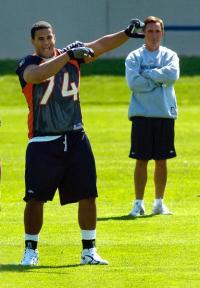 Name: Ryan Emerson Wilcox Harris
Height, Weight: 6'5″, 300
Position: Offensive Tackle
Age, Experience: 2, 23
College: Notre Dame
Ryan Harris was drafted by the Denver Broncos in the 3rd round of the 2007 NFL Draft. In his rookie season last year, Harris underwent back surgery during training camp and was inactive for the first five weeks of the season. Harris contributed to special teams, starting in Week 7 against Pittsburgh on Sunday Night Football. He appeared very briefly a few times at both left and right tackle last year.
The Good: Harris has a lot of upside, and is healthy coming off his back surgery. Physically, he has a lot of tools you look for in a tackle and can really aid the offense. Personally, I love the kid. I'm really hoping he wins the starting right tackle spot. Coming out of college at Notre Dame, Harris won the award for Best Offensive Lineman for the Irish twice in his career. He is only the third true freshman to start a game on the offensive line in Notre Dame history, starting 8 games in 2003. The feat earned him All-Pro freshman first and second team honors from various sports outlets. Throughout his career, Harris helped the Irish tally impressive offensive statistics, including averaging over 30 points per game in his senior year.
The Bad: Harris has injury concerns coming into the season, and while the Broncos are said to be high on him, he'll have to show that he's healthy enough to win the starting right tackle job. As of May 27, Head Coach Mike Shanahan named Chris Kuper the starting right tackle during practice. While this is by no means final (this is the exact same case involving Kuper and RG Montrae Holland last year, and Holland won the starting job by the start of the season), it shows that Harris has some work to do to show he's worthy of starting consideration.
Status: Competing for starting spot. Signed through 2010. Harris has his work cut out for him in training camp. Let's see if he steps up. Ryan Harris was born on March 11, 1985, in Minneapolis, MN.
As always, we invite you, the readers, to partake. Are you a fan of Harris and his physical toolset, or do you want someone more experienced?

Loading ...
We hope you enjoy these posts as BroncoTalk continues to develop the first fan-powered Denver Broncos roster on the web.