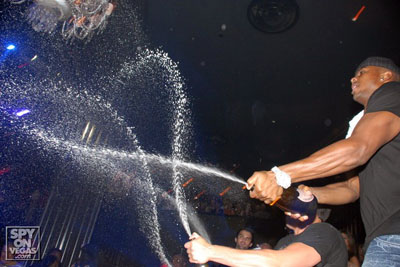 A few images of what Javon Walker was up to this past weekend.  Another interesting note I did not realize was this piece of history.  Sad circumstances indeed:
Walker asked Broncos coach Mike Shanahan for permission not to attend Williams' funeral in Texas, saying he was too distraught. Walker flew to Las Vegas the weekend of the funeral and was seen at Tryst. – Vegas Confidential
According to various sources, Javon Walker was on his second straight night of spraying Dom into a crowd at a night club (isn't he supposed to be getting ready for the season?). As reported earlier, he had also done this at Tryst early Sunday morning, while Monday morning it was Body English. According to some reports, he was racking up $15,000 tabs on both nights.

What makes this all the more troubling is that it has been reported that Brandon Marshall and his cousin had sprayed the crowd at a night club the night that Darrent Williams was shot and died in Walker's arms. This 'spraying' of champagne is the suspected impetus of the drive by shooting.

When Darrent Williams was put to rest, Walker begged out of going to Texas for the funeral and instead was later seen at Tryst in Las Vegas. – MVN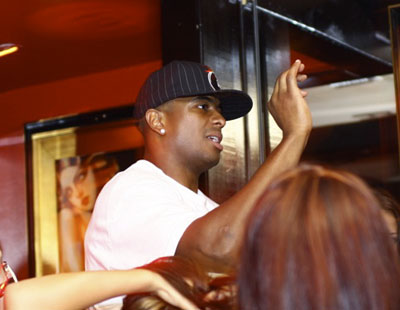 The entire situation summed up via Deadspin.