Posted Tue Jun 17th by Monty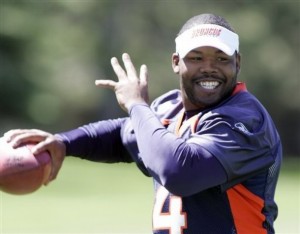 Name: Darrell Hackney
Height, Weight: 6'0″, 248
Position: Quarterback
Age, Experience: 2, 24
College: Alabama-Birmingham
Darrell Hackney joined the Denver Broncos in 2007 and spent the first half of the season on the practice squad. After Jay Cutler's leg injury against the Detroit Lions in Week 9, Hackney was signed to the active roster and served as the team's 3rd quarterback under the NFL's rules. This policy allows Hackney to suit up in addition to the 45 active players at game time, and in the case of injuries to both the first and second string quarterback, Hackney can come in and play (while restricting the return of the other quarterbacks unless Hackney only plays in Q4). Anyone watching long snapper Mike Leach warm up for passes on the sideline during the Detroit game knows that Hackney's presence as a backup option was a comforting proposition.
The Good: Hackney broke school records as a quarterback at Alabama-Birmingham in passing yards (9,886).  He finished with 71 touchdowns and 33 interceptions for his career.  Many scouting reports listed him among the strongest arms coming out for the draft in 2006.
The Bad: Hackney was arrested for a DUI in December of last year.  In three preseason games (remember, all among third stringers on offense and defense), Hackney completed 10 of 22 passes (44.5%) for 113 yards (5.1 average), 1 interception and 0 touchdowns.
Status: Practice Squadder.  Signed an undisclosed contract in 2007.  Hackney wasn't activated in any NFL games, so he is still eligible for the practice squad.  Darrell Hackney was born on August 7, 1983 in Atlanta, GA.
As always, we invite you, the readers, to partake.  Do you like Hackney as the third string QB or do you want someone more reliable?

Loading ...
We hope you enjoy these posts as BroncoTalk continues to develop the first fan-powered Denver Broncos roster on the web.