Posted Mon Jun 16th by Monty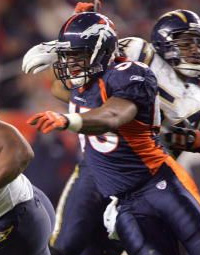 Name: Louis Edward Green
Height, Weight: 6'3″, 237
Position: Linebacker
Age, Experience: 5, 28
College: Alcorn St.
Louis Green is a backup linebacker for the Denver Broncos who primarily sees the field on special teams. An undrafted free agent out of Alcorn State, Green spent his first few years in the league bouncing back and forth from the Broncos' practice squad and the free agent market. In November of 2004, he was finally signed to the active roster of the Broncos and has remained there ever since.
The Good: Special teams. Green's an ace. He's the type of guy that doesn't have all the talent in the world, but works his tail off to keep his spot on the roster. In his three full years with the Broncos, Green has tallied 25 special teams tackles. He's always around the ball on special teams. Meanwhile, Green was nominated by his teammates for the Ed Block Courage Award in 2006 "in recognition of his perseverance through the offseason passing of his mother following a long illness."
The Bad: Green is not a starter or even 2nd string material at linebacker, but he gets the job done on special teams. He's not old by any means, but for a strictly special teamer Green will be considered a wise old vet when he turns 29 this September.
Status: Special teamer, potential camp fodder. Signed a 3-year contract last offseason that runs through 2009. There are a lot of young players joining the Broncos this year that could use special teams work while they're groomed; Green will have to show he's invaluable in that area to keep his spot. Louis Green was born on Sept. 23, 1979, in Vicksburg, MS.
As always, we invite you, the readers, to partake. Is Green's impressive special teams work worthy of a roster spot, or should the Broncos give a younger guy a chance?

Loading ...
We hope you enjoy these posts as BroncoTalk continues to develop the first fan-powered Denver Broncos roster on the web.