Posted Thu Jun 12th by Monty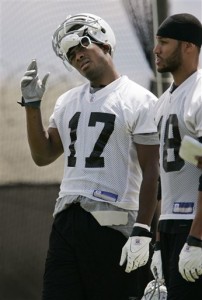 Things didn't end well between the Denver Broncos and WR Javon Walker, and the former Pro Bowler has already made it clear that it's personal between he and the Broncos. Well, he's not the only one – Broncos players are feeling it as well. Even if they're new to the team.
Kim from Predominantly Orange conducted a slew of player interviews from Fain Fair over the weekend, and new middle linebacker Niko Koutouvides made it clear that the Broncos have #17 (formerly #84) squared in their sights.
"We'll have something special for Javon Walker… He's not too happy with the Broncos right now. You work year round for those kind of games."
"Something special for Javon," huh? A little more oomph in each hit? A little smack talk between plays? Sounds good to me.
One thing is certain: this game between the Raiders and Broncos is going to be epic.  Simply epic.  I can't remember being this pumped for a season opener in a long, long time.  They better bring their 'A game,' because Walker's former teammates are ready to take it to 'em.
Q&A with Niko Koutouvides [Predominantly Orange]