Posted Wed Jun 11th by Monty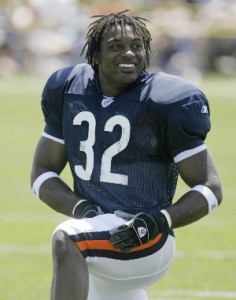 Running back Cedric Benson was just released by the Bears earlier in the week, and some around the Internet have speculated that Benson could find himself in Denver.  The reasoning somewhat makes sense: the Broncos haven't been afraid to take chances on under-performing free agents they had graded high coming out of college (see Keary Colbert).  To outsiders, it appears they have a need at running back.  The Broncos have overlooked character concerns often as well.
It appears Vegas has taken notice, with BodogLife.com setting odds for Benson's next team.  The Pats are the 2/1 odds-on favorite.  The Broncos aren't too far behind at 4/1.
So far there has been no interest being mentioned from the Denver media from practice.
I, for one, want absolutely no part whatsoever in Ced Benson.  The guy is awful, on and off the field. 
Thankfully, I don't think the Broncos are interested either.