Posted Wed Jun 11th by Monty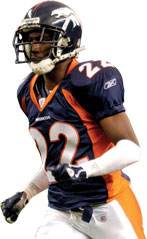 Name: Domonique Foxworth
Height, Weight: 5'11", 180
Position: Cornerback
Age, Experience: 4, 25
College: Maryland
Domonique Foxworth was the third cornerback taken by the Denver Broncos in the 2005 NFL Draft, and is approaching his contract year with the club. In three seasons with the Broncos, Foxworth has played in 46 regular season games at both CB and S, with 5 starts. He also started 2 postseason games as a rookie in 2005. In addition to his duties on the field, Foxworth is a member of the NFL Player's Association's Executive Board off it, working with the Union among a small group of players to help represent the players' needs.
The Good: Foxworth has been a virtual insurance policy at two positions since his sophomore season. In 2006, he began to play at safety, where he would play the majority of his snaps in 2007. He's been relatively injury-free, missing only two games in 2007 due to an ankle hiccup. Last year Foxworth played in place of both injured SS Nick Ferguson and FS John Lynch. He's averaged around 50 tackles per season and has 3 career interceptions. With additions at safety this offseason, Foxworth can focus on playing only cornerback for the first time since his rookie season. Off the field, Foxworth is diligent in supporting the community and is a great example to his peers and fans. Perhaps more than any other Bronco, he is actively engaged in carrying the late Darrent Williams' legacy throughout Denver and beyond.
The Bad: Foxworth's moving all around the football field led to his worst season to date statistically, although the difference is minimal and nothing to sweat over. He's yet to crack a starting lineup for any other reason than injury to the player ahead of him on the depth chart. Oh, and most importantly, he stopped blogging, which is just a colossal shame.
Status: Valuable backup. Signed through 2008. Foxworth is entering his first career year, and hasn't committed to remaining a Bronco beyond this year. Domonique Foxworth was born on March 27, 1983 in Oxford, England.
As always, we invite you, the readers, to partake. Should we be diligent in re-signing Foxworth or let him hit free agency after '08?

Loading ...
We hope you enjoy these posts as BroncoTalk continues to develop the first fan-powered Denver Broncos roster on the web.