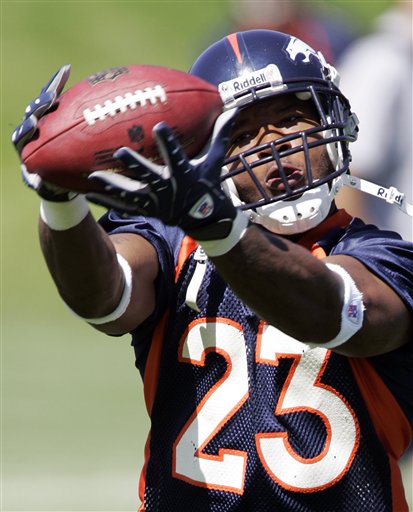 Name: Andre Hall
Height, Weight: 5'10", 212
Position: Running Back
Age, Experience: 2, 25
College: South Florida
Andre Hall passed through Tampa and Chicago before landing in Denver. As an undrafted free agent, Hall spent 2006 trying to stick on a team and ending that year on Denver's practice squad. In 2007 Hall stepped up as a returner and when injuries hit Travis Henry and Selvin Young, Hall got a chance to start his first NFL game vs Chicago on Nov. 25.
The Good: Hall was a bright spot on a special teams unit that featured our biggest embarrassment in years vs Devon Hester. He racked up 475 yard on kickoff returns on just 19 attempts (25 yard average). Hall also showed moments of brilliance out of the back field last year including his remarkable 4th quarter vs TEN in week 11 when he took the field with less than 13 minutes left in the game and immediately broke off a run for 62 yards and a TD. He followed this up with this first Pro start vs Chicago where he gained 181 all-purpose yards and a TD.
The Bad: Despite some momentary flashes, Hall hasn't shown the consistency of a starting RB in the league – he often follows long breakout runs with disappointingly short gains. He's slightly undersized at this level and he (like every one of our backs last year) suffered from the injury bug.
Status: A backup in 2007 with special teams experience. However, Denver signed rookie running backs Ryan Torain and Anthony Alridge as well as veteran Michael Pittman this off season. They also released Travis Henry. That leaves Selvin Young atop the RB depth chart heading into camp this year. Andre Hall will need to show Denver's coaches something special in order to stay in play among the running back unit. And with Eddie Royal coming in, Hall will have some serious competition on the return unit as well.
As always, we invite you, the readers, to partake. How do you see Hall fitting into our 2008 offense and special teams?

Loading ...
We hope you enjoy these posts as BroncoTalk continues to develop the first fan-powered Denver Broncos roster on the web.