Posted Fri Jun 6th by Monty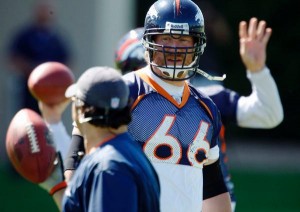 Denver Broncos center Tom Nalen will undergo arthroscopic knee surgery today to repair torn cartilage in his left knee, the Denver Post reports.
The team reports that the surgery will keep Nalen out of action for 2-3 weeks, leaving the possibility for his return during the July 5-7 mini camp and definitely by training camp later in July.
In his absence, Casey Wiegmann has seen the starting center snaps.
It's sad to see these injuries happening to one of my all-time favorite Broncos. Nalen is as tough as they come, but at the age of 37, battling torn biceps and knee cartilage, this will almost certainly be his swan song. Here's hoping he can see the field for one more season and finish his stellar career strong.