Posted Fri Jun 6th by Monty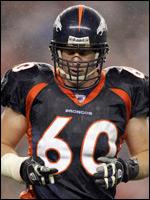 Name: John Albert Engelberger
Height, Weight: 6'4″, 260
Position: Defensive End
Age, Experience: 9, 31
College: Virginia Tech
John Engelberger joined the Denver Broncos via a trade with San Francisco in 2005. Until this past year, he had only started one game for the Broncos, participating in the defensive line rotation and tallying 79 tackles and 1 sack in 2005 and 2006. In 2007, with the injury of Ebenezer Ekuban and the release of Kenard Lang, Engelberger saw his first real opportunity to start.
The Good: Engelberger is known as a blue collar hard worker, who may not be overly impressive statistically but will put in the effort to make his mark on the field. His work ethic helped him earn a roster spot, and ultimately a starting position on the defensive line in Lang's stead last year. Engelberger tallied 59 tackles, 1 sack, and a forced fumble in 15 starts in 2007.
The Bad: Engelberger has not made a lot of impact plays in his career. He's only earned two sacks in three seasons with the Broncos. Meanwhile, the Broncos' run defense was morbid last year, especially on the defensive line. If he's not helping rush the passer, and he's not making a dent on the worst run defense in recent Broncos memory, is he worthy of a starting spot?
Status: Incumbent starter. Signed through 2010 after earning a new contract last year. Players with the level of work ethic Engelberger had will always earn my admiration and respect, and always have a spot on my Broncos. Someone with a bit more talent at the pro level would be more palatable in a starter's role, however. John Engelberger was born in Heidelburg, Germany on October 18, 1976.
As always, we invite you, the readers, to partake. Does Engelberger's work ethic make up for the lack of flash, or are you left wanting more?

Loading ...
We hope you enjoy these posts as BroncoTalk continues to develop the first fan-powered Denver Broncos roster on the web.