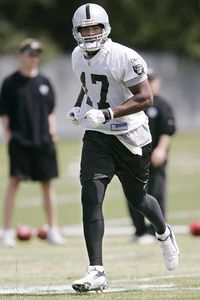 If this doesn't get you fired up as a Broncos fan you must be in a coma. Javon Walker left a message for his former team in an interview with ESPN's Bill Williamson, "it's personal". Walker says he still loves the city of Denver but detests the Broncos organization. He refers to the orange and blue as "that team". They kind of go hand in hand Javon. Williamson is speculating that Walker's attitude towards the Broncos is one of the reasons Al Davis forked over that Brinks truck of a contract to him. Anything to bring in a player scorned by the mile high franchise. Bill Romanowski anyone?
"That team is going to see me in the opener," Walker said. "They are going to see me, I'll tell you that. They'll see what they are missing." – On the Monday Night Football Opener
Despite everything that has happened over the last two seasons Walker still thinks he got the raw deal in Denver. After Denver's loss to Jacksonville this apparently is how the Broncos did Javon wrong.
"I was open and they didn't get me the ball," Walker said. "Here I was busting my butt, draining my knee, to be able to go out and make plays and they didn't get me the ball. After that, I started to take care of my knee."
Let me get this straight. The offense has one bad game during which the Jaguars had a stifling defense on the field. The game was back and forth the entire game with both teams locked in a defensive battle. Because you proceeded to not get the ball you gave up on your team and play for yourself and "take care of your knee"? Walker was outplayed by Marshall the entire 2007 season and it was clear he couldn't be relegated to 2nd on the depth chart. Which is still a starting position the last time I checked!
Javon took on the attitude a lot of receivers these days have, if I'm not #1 on the chart, I'm being done wrong. Anyone with a basic knowledge of football offense knows there isn't really an order for the receivers that are on the field with the starting offense. Your coaches will have you run the best routes for your skills on a given play. If you're a speed guy you're going to run the deep route. If you have good hands and composure you're more likely to go over the middle. Why is this so hard to understand?
"I was ready in those final games and they just didn't want me to be a part of the offense," Walker said. "I just didn't work for me there with that team. They wanted me to take a pay cut in the middle of the season. They just didn't care about me. I'm glad I'm out of there." – Walker on coming back after being injured for seven games
Didn't want you to be a part of the offense? The guy was pretty much a no show after week 3. The games he did play in he caught 2 balls a game for an average of about 16 yards and had no touchdowns all season. You didn't show up. Walker still continues to say that the events surrounding the Darrent Williams shooting have nothing to do with his attitude in Denver. But as sad as it is to say, we all know it has had an affect on Walker's relationship with the team. He was never the same player after that night.
Denver insiders say the team is happy to be rid of the wideout. They said he was more concerned with personal numbers than team performance. I think this article pretty much echoes that statement, right out of Javon's mouth. He just doesn't want you to hear it that way.
"'This team gets me," Walker said. "They know what I can do for them. The coaches want me to get the ball here. I just can't wait to show what I can do in the first game against that team."
But somehow the Raiders are going to cure all his ills. What else did Al Davis fill your head with? In any case, is everybody ready for some Bronco on Raider hate for Monday Night Football?