Posted Thu Jun 5th by Monty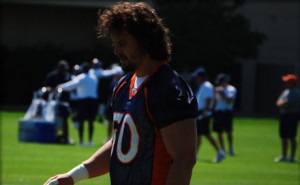 Today, CBS Sportsline has a couple of articles ranking the 32 NFL franchises' offensive and defensive lines. This is something I'm interested in more than any other comparison any of these national media sites can do – it's the exact reason why a talented Denver Broncos team failed to deliver in 2007.
The top of each article features a graph showing 5 years of sacks and sacks allowed by every NFL team. From 2002 to 2007, only 4 teams (the Packers, Colts, Patriots, and Chargers) have allowed fewer sacks than the Broncos. The defensive line is another story – the Broncos are just below the middle of the pack when it comes to 5 years of DL-attributed sacks.
OFFENSE: Denver Broncos Rank 19 out of 32
Best player: LG Ben Hamilton. Weak link: The right tackle spot.

The skinny: The Broncos line, which has been a strong point in recent years, wasn't so good last season. That's why Denver picked Ryan Clady in the first round. He will start at left tackle. The rest of the line will see a lot of competition for jobs. At right tackle, Erik Pears should battle Chris Kuper for the starting job. Getting left guard Ben Hamilton back from injury is huge. Center will be a battle between Tom Nalen and Casey Wiegmann.
DEFENSE: Denver Broncos Rank 25 out of 32
Best player: RE Elvis Dumervil. Weak link: Left end, whomever it is.

The skinny: This has been a trouble area for the Broncos for the past five years. They have brought in a wave of veterans who have flopped and used high draft picks to help make their front better. Those picks need to produce this year. Dumervil is a speed rusher who can get handled in the run game. But he's the best of the group. Jarvis Moss and Tim Crowder need to do more off the edge. Moss will push John Engleberger and Ebenezer Ekuban for the left end spot. Marcus Thomas has tons of potential at tackle, while Alvin McKinley is average. The addition of Dewayne Robertson will help if he can stay healthy.
As someone closer to the team day in and day out, the offensive line scoop was inaccurate in a few ways. It's Nalen's job to lose – there's always competition, but Wiegmann won't be pushing Nails out of a job if he's healthy. Ryan Harris is another name to watch at the right tackle spot – don't expect Pears to be anywhere but backup LT.
The rankings are low, but these units haven't showed anything yet. Too many unknowns. I think they'll be better, but until then, I have no gripes with these rankings.