Posted Wed Jun 4th by Monty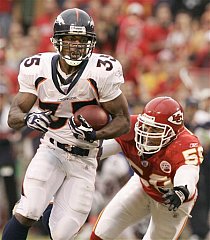 Those all-knowing experts at ESPN and Scouts Inc. have come up with a list ranking the league's running backs 1-64. Ladainian Tomlinson tops the list… I have no beef with that. Next is Adrian Peterson… I think there's a lot more hype than real substance behind AP, but I'll let it slide. Marshawn Lynch by no means belongs in the Top 10 – put Fred Taylor in there instead… Michael Turner needs to prove, I dunno, something before finding himself in the Top 20… Reggie Bush is a wide receiver, let's stop pretending otherwise, he rushed for barely 500 yards last year as the "feature back," yet had over 700 receiving yards. Get him off the list altogether.
Not to mention that several rookies appear prominently on the list. Despite never playing a snap at the pro level, Darren McFadden, Jonathan Stewart, and Rashard Mendenhall all received ranks in the top half of their rankings
In other words, this is just about the worst list I've ever seen trying to rank players, possibly ever.
I set the stage in such a way to let you know that Selvin Young, the first Broncos runner listed, is ranked 60th. They can't even justify the ranking in their own description.
60. Selvin Young, Denver Broncos
Superpower — He is coming off an impressive rookie season in which he provided excellent depth in the Broncos' backfield. Young was a pleasant surprise for the Denver staff after being acquired as a college free agent in 2007. He showed deceptive power for his size, as he runs with conviction and great body lean. He has excellent vision and instincts with the lateral quickness and agility to find a crease.
Kryptonite — Young has had durability concerns in the past, and it remains to be seen how well he can handle the pounding with more playing time. He lacks great elusiveness in space and is more of a straight-line runner. He will need to develop in the passing game, especially in blitz-pickup situations.
Ahh… the old generic "needs to work on blitz pickups" excuse for journalism. Take a closer look at Young and you'll see he's been refreshingly decent in that area.
For the record, they have our old friend Travis Henry listed #36. Which is incredible to me. Young ran for more total yards, more yards per attempt, was better in blitz pickup, and has no off-field issues to consider.
Wow, when I put it that way, why'd it take us so long to cut Henry in the first place?