Posted Tue May 27th by Monty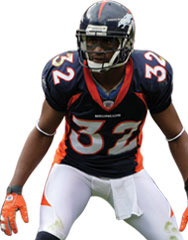 Name: Donald Andre Bly
Height, Weight: 5'10", 188 lbs.
Position: Cornerback
Age, Experience: 31, 10
College: North Carolina
Dre Bly joined the Denver Broncos in 2007 in a trade with the Detroit Lions for RB Tatum Bell and OT George Foster. There was a bit of tension early on – rumor was that Bly was hoping to become a Redskin – but he signed a 5-year deal in the end that will potentially keep him in Denver through 2011. He also restructured his contract this offseason to stay in Denver.
The Good: Bly led the Broncos with 5 interceptions in 2007, and was the only player in the Broncos secondary to start all 16 games. Bly has the ability to make the spectacular interception that leaves your jaw dropped (think Pittsburgh, end zone, dislocated shoulder last year). Like Champ Bailey, he showed last year that he wasn't afraid to get his nose dirty, tallying 59 tackles. Bailey and Bly have the 1st and 2nd most interceptions in the league respectively since they entered the NFL in 1999.
The Bad: He's a double edged sword. Bly has the tendency to make spectacular plays, but also can make huge whiffs that leave you wanting much more. Sometimes he'll even blow his coverage in a spectacular fashion (think Oakland week 2, Raiders only completed 8 passes, one of which was a touchdown clear over Bly's head).
Status: Incumbent starter, signed through 2011. Bly is a solid corner who can really complement Bailey. The two struggled to reach their potential last year (much like the entire defense did) – hopefully this year the passing lanes can be truly shut down. Donald Andre Bly was born on May 22, 1977 in Chesapeake, Virginia.
Now we invite you, the readers, to partake. Does the good outweigh the bad with Bly, or are you left wanting more?

Loading ...
We hope you enjoy these posts as BroncoTalk continues to develop the first fan-powered Denver Broncos roster on the web.