Posted Fri May 23rd by Monty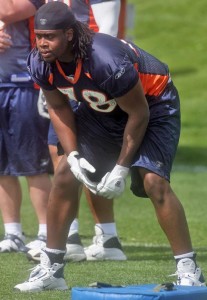 The 2008 Denver Broncos embarked on their annual journey toward playoff success this week. Humbled after a 7-9 season last year, the team had re-tooled, if not re-vamped, both the offensive and defensive sides of the football this offseason in order to show improvement from last year.
Now that the new pieces were in place and the rookies were under the fold, the team met for the first time, some old, some new, and set out to fix the mistakes of the previous two seasons.
The voluntary workouts, dubbed "Quarterback Camp," took place from Monday through Thursday and will continue through next week. The players will enjoy a four-day Memorial Day weekend before returning to work on Tuesday, and will finish up practice on Friday, May 30th.
Here's a recap of some of the bigger stories from the week that was:
Henry, Scheffler Out with Injuries – Travis Henry was missing from day one and Tony Scheffler joined him the day after. The players suffered aggravated hamstring and foot injuries, respectively. Henry is expected to return to practice next week, while Scheffler will miss the rest of this camp. Scheffler's left foot, which he fractured in May's QB Camp last year, has been placed in a boot, and if everything goes well he should return before the team's next camp in mid-June.
Injured Broncos Make Their Return – Offensive linemen Ben Hamilton and Tom Nalen returned to the practice field after being placed on the Injured Reserve last year, and 2007 first round draft pick Jarvis Moss made his much anticipated return. Moss said he was excited to return to the football field this time around:

"It was real tough, going down halfway through the season, but I think that gave me a little chip on my shoulder this season.

"I was just happy to wake up this morning, instead of like my rookie year, waking up dreading practice. I've grown. Like I said, I feel more mature in meetings, more attentive, more prepared to come out and be focused mentally."
Rookies Look Impressive – First round pick Ryan Clady already has a nickname – Sweet Feet – appropriate for the 317-pounder's impressive footwork. He had few words when approached by the local media – upholding a long standing Broncos offensive line tradition of doing the talking on the football field. Meanwhile, Eddie Royal looked good catching footballs in his oh-so temporary #3 jersey. Head Coach Mike Shanahan was sure to remind everyone that they all look good now, but they'll need to work hard to see that translate to real game action.
"They are all Pro Bowl players right now," Shanahan said with a smile. "It is about learning the system first. Right now it is so much mental but you see a lot of talent with the rookies. Until you put on the pads and give them a chance to compete, you don't know for sure, but I am pleased with what I've seen with the young guys."
Fierce Competition at Wide Receiver – There will be no roster spot handouts for the Denver Broncos wide receivers this year – three free agents and a second round draft pick join incumbents Brandon Marshall, Brandon Stokley, and Glenn Martinez. Marshall ran routes and drills, but did not catch the football, still recovering from his freak accident that resulted in torn tendons and nerves in his arm in March. The new receivers embraced the competition, including Samie Parker, who said the WR competition will help push the best candidate forward:
"It is a good experience. We can all push each other and make each other better. We can show the coaches and the quarterbacks we are able to come out here and make plays."
Robertson Taking it Slow – The Broncos have a plan surrounding recently acquired defensive tackle Dewayne Robertson and the bone-on-bone condition in his knee: take it slow. After appearing in the first few sessions of Broncos practice, DRob will be held out of next week's workouts as a precautionary measure.