Posted Tue May 20th by Monty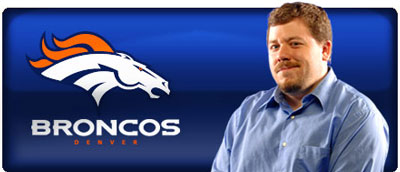 We've been keeping in touch with former DenverBroncos.com senior editor and blogger Andrew Mason since his departure in March, and are happy to report that he has landed on his feet, now writing for the Carolina Panthers official web site. He asked us to extend the following message to Denver Broncos fans, and after everything he has done for us and this site we were more than happy to oblige.
In the comments I read on message boards, my former blog, e-mail and other venues, many of you wanted to know where I would end up. I didn't want to say much until I had something to report — which is now the case.

But please forgive me for detouring before getting to the point of this piece.

With the Broncos opening their quarterback camp on Monday morning, I found myself taking a few minutes to click around and see how the first day of OTAs was being covered. After all, it seems like only yesterday that I was blogging about Broncos offseason practices, and just a couple of hours ago that I was still writing on DenverBroncos.com.

Then I saw this picture over on the Rocky Mountain News' Web site. I easily recognized Jay Cutler and Patrick Ramsey. The fellow in the background — that was another matter entirely.

"Eighty-four?" I blurted out in puzzlement to an otherwise empty hotel room. "Who the heck is that guy?"

(For the record, it is tight end Brett Pierce.)

I hope you'll forgive my ignorance, because I have another team upon which I am focused — the Carolina Panthers.

As the Broncos began their quarterback camp, I went through my first day at Bank of America Stadium in Charlotte as the staff writer on the team's official Web site, Panthers.com. It is an opportunity for which I am thankful to so many near and far, in Dove Valley and beyond — not the least of which are those of you who shared so many kind words in the days and weeks after the paths of myself and the Broncos diverged. My second chance with an NFL team is in part due to Broncos fans who read the site and blog and responded to it with such gusto.

Wherever I go and whatever I do, I'll never forget what a privilege it was to write for you, Denver's fans, for the past six seasons. Yes, this is a business, and there's a reality to it that I understand in the way so many players and coaches have over the years. But this is also a passion, one that all of us around the sport — players, staffers, coaches, fans — share with equal fervor.

Take care, and until we meet again, "vaya con Dios."
We'll be sure to extend any comments left here to Mason via e-mail.