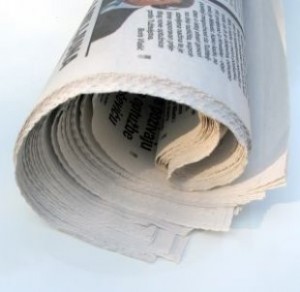 If you watch closely, you'll notice there is a new trend of late.  The Denver Post has had a large decline in it's sports section, more specifically the Broncos and pro football coverage.  It's not just in one facet either, the quality of sports articles has fallen, the quantity has dropped and it's users and comment sections seem to be revolting of late.  You can typically rely on the Post to have two or more Broncos related articles daily this time of year to keep the pallet wet even if there isn't much on the news front.  On a similar note the RMN (Rocky Mountain News) has a smattering of articles throughout the week.  Usually these articles are not what I would call consistent, but more of an as they come approach.  Not that it was ever a bad thing, but just more of the Rocky's style.
The game is changing though.  While I was covering the daily links last week for Kyle it became apparent.  Browsing to the Broncos section of the Post I was suprised to see nothing new for the day.  The most recent post was that of Elway buying a stake in the PBR.  That's odd I thought to myself, here it is mid-day and no new Broncos or football articles.  I shrugged it off and proceeded to the RMN.  From there I was able to dig out three of our four links for the day.  It's highly unusual that you pull almost all of the selections from one media source but that's the way it fell on this day.  You're asking yourself, so what?  While I was revisiting this task the following day I browsed to the DPO again to see what they had in store for us Bronco faithful.  Nothing, again…  Refresh, F5, refresh, F5, nothing.  The same PBR story.  So here we are, Tuesday the following week and we get our first fresh story out of the Post.  And what do they do?  Incense the fans of the team they're tasked with covering.  How did they manage to do this?  By reporting a simple piece of news on Marcus Thomas.
But they couldn't just report the story, they had to take the tone of guilty until proven innocent.  The whole piece reads as if it were written by the Florida prosecutor's office.
Florida prosecutors said they decided to drop a cocaine possession charge against Denver Broncos defensive tackle Marcus Thomas because they didn't think they could persuade a jury that Thomas knew cocaine was in the truck in which he was riding.
The whole article spells out the details of the case but doesn't go as far to mention that Thomas was exonerated from a case that the prosecution knew they couldn't prove past circumstantial.  Now I don't want to debate the merits of this article inside and out, but what I do want to report on is how the Post's readers received the Thomas article.  The following quote sums it up perfectly and matches the tone of the other comments.
WHAT DOES THE DENVER POST HAVE AGAINST THE BRONCOS?

You have got to be kidding me. Again, the DP skews the story to make it sound like Thomas got away with it.

Heres the facts. Thomas IMMEDIATELY took a drug test to show innocence. His buddy ADMITTED to the police the gun and the cocaine was his. Thomas had NO KNOWLEDGE of the drugs or the gun. Apparently to any RATIONAL human being, this would be enough to establish innocence.

But no. Prosecutor STILL TRIED TO FILE CHARGES? What is going on with this NFL witch hunt?

YOU EVEN RUN THE MUG SHOT.

Pretty pathetic, Denver Post. Pretty damn pathetic.
It's this type of writing slipping through to print that has many Bronco fans wondering of late, do they employ editors over at the Post anymore?  It's almost become a running joke turning the Post into a laughing stock.  This was posted after the Thomas article.  "D-a-m-n….I wanted to read that Elway Bull article again." I had to include that, I got a good chuckle out of it.  It's not this one instance either.  Anyone who has read the Post for over 10 years knows well the history of Woody Paige.  I'm especially fond of his front page prediction that the Jets were going to take down the Broncos in the AFC Championship game during our second Super Bowl run.  Every reader knows to take Woody with a large grain of salt, he has a love/hate relationship with the Denver readership.
The problem came when everyone started to emulate Paige when it was realized where it could get you.  Woody is now a regular on ESPN, mainly on "Around the Horn" with a few apperances elsewhere.  Mark Kizsla soon followed suit.  Many readers seem to have a special detest for his writing.  Up the drama and sensationalism and you get tv appearances.  "Kiz" started to get guest appearances on Fox Sports Rocky Mountain shortly after these types of articles started to come out.  Hey, it makes for good tv I suppose.  Up until recently, I've always liked Jim Armstrong.  He was able to get the tv appearances and spotlight without playing it up.  His articles were always full of the interesting and humorous stats or nuggets.  They also seemed to approach things at a fresh angle.  But even Armstrong seems to have stooped to the lower level of late, making a sort of Denver Post trifecta of cynicism.
Compare that to the Rocky's recent reporting.  Last week they had this great article on John Lynch up.  Along with a nicely detailed briefing of Kyle Shanahan's promotion to Houston Texan's offensive coordinator.  Their color commentary opinion writer Dave Kreiger has always been fair and level headed.  He can be tough on our home teams, but he brings a substantial case when he does so.  His most recent post "Calling It Quits Never Easy" raises questions about Denver's most beloved sports players and whether they are past their prime.  Similar to his style, a tough article to write but was completely fair.  It included John Lynch and Rod Smith as examples of players who have had to hang it up or are starting to face that decision.
We're even starting to see their writers reach the next level now.  Jeff Legwold had a recent appearance on the NFL Network trying to predict who the Broncos were going to pick at twelve.  Poor guy looks nervous as hell in the interview.  He went on to nail the Broncos second pick on the head in this round table even if it was in a round about way.  A feat no other sports writer went out on a limb to make, especially with Eddie Royal being a surprise selection by the Broncos war room.
What does all of this mean?  The Rocky has raised it's game substantially of late.  They are hitting home runs in their reporting, specifically on the Broncos and seem to be grabbing at that top media coverage spot.  They need more consistency and volume, but are well on their way to challenging.  The Post has not been able to hold on to it's talent.  Adam Schefter is the golden example of this, now working for the NFL Network.  But you could tell he was headed on to bigger things.  They failed to even keep Bill Willamson, losing him to ESPN.  Even though many of us question what the hell ESPN was thinking on that one.  Bronco fans are tired of reading cynical and negative articles one after the other.  Once in a while it is good to be negative, and objective, but not every story.  Watch the newest episode of Costas Now and they address why all of sports media is going this route.  I still happen to enjoy their hockey writing over there with the Frei, Dater one two punch.  The Denver Post has had a readership they're starting to take for granted.  The management and editors had better take a look around soon, because their sports readership could be headed elsewhere fast.