Posted Wed Apr 30th by Monty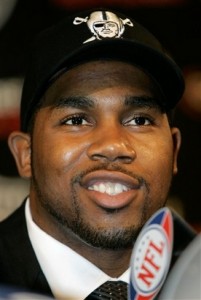 The Oakland Raiders may have made a big splash by drafting Darren McFadden Saturday, but anyone with any scrap of sense will tell you that it was the last thing the Raiders needed. Yesterday they released Dominic Rhodes, who let some of his feelings about the Raiders organization be known in a recent interview with Sirius NFL Radio.
"The year out in Oakland was a tough one for me, man, especially coming from the Colts, which is a great organization. They put together their team in a way with not a bunch of guys that are supposed to be like Hollywood types. They go and get guys like myself who they know can play football and they put them on the field and they win with them, you know?"
What, the Oakland Raiders like to go after Hollywood types? Really? Nah, really? You're kidding.
"Out in Oakland it was tough, man. I got put into a bad situation. … We had like a stable full of running backs that are capable, that ran for a hundred yards, every one of them and we went and drafted a guy that – he's a great runner, don't get me wrong – but I don't understand the logic behind it."

What's more, it's becoming plenty clear that Raiders coach Lane Kiffin wanted no part of McFadden. He had Rhodes, Justin Fargas, and LaMont Jordan already on the roster, not to mention last year's uber-talented-but-injured 4th round pick Michael Bush. Why in the world would he want to add another RB to the mix with Glenn Dorsey staring him in the face?
"I don't really think that Lane Kiffin wanted to take a running back in the first round, let's just put it like that," Rhodes said. "He has to deal with it now, but I don't think that's what he wanted to do."
It's almost certainly not. That's not all, though – yesterday, former Raiders DT Warren Sapp had a few interesting things to say – particularly about one of the running backs the Raiders decided to keep.
…After three games last season, LaMont Jordan led the NFL in rushing," Sapp said. "But LaMont is like the worst offseason running back I've ever been around; he was out of shape and couldn't keep it going."
It's hard not to completely fold over when I hear this. Great job Oakland! Keep the lazy "Hollywood types" and cut the blue collar guy who actually wanted to work hard to see the field!
According to Sapp, the whole team is a mess, both offensively and defensively. He made sure to point out the weaknesses in the Raiders' defense, particularly that Oakland is "a team with 3-4 personnel, but they're running a 4-3 system." He said the team would do better implementing a two-gap approach instead of the current defensive coordinator Rob Ryan's one-gap system.
Anytime your football players leave your organization and have no problem airing the team's dirty laundry, you've got problems. In two days, two ex-Raiders made it crystal clear that Oakland is a team in turmoil from top to bottom. Everyone jumping on their bandwagon is in for a bumpy ride.