Posted Sun Apr 27th by Monty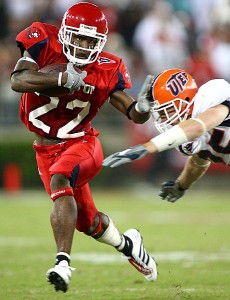 We've just caught wind of an unconfirmed report that the Denver Broncos have already made a splash in the undrafted free agent market. The Broncos reportedly signed University of Houston running back Anthony Alridge, according to this Houston Chronicle blog. The report seems legitimate, as the author says he spoke to Alridge and quotes him several times during the article.
Alridge (5-9, 170) has very great quickness and is a threat to go the distance each time he touches the ball. Although he's been fairly durable in college, most scouts look at his height and weight and don't project him to be able to take a running back's pounding at the pro level.
Alridge says a current Bronco had a lot to do with his recruitment there:
"Teams like Denver, Atlanta and Chicago liked me, but everyone talked about me being a 'tweener. It was like nobody wanted to draft a guy who was between a running back and a wide receiver. I have a friend there (in Denver) from my hometown (Denton) named Jarvis Moss, so it should be a good transition for me."
Alridge won't let his critics dictate his success, though.
"I've got to make people pay for not drafting me. You know me – that's going down. People are going to pay for that. You can tell everyone – that's going down."
An undersized guy with a ton of talent and a huge chip on his shoulder? Where have we heard that one before? He's a nice complement to 5th round pick Ryan Torain, who projects to be a more bulky power runner. If the report is true, and it sounds like it is, he'll certainly compete for a special teams returner spot as well.