Posted Sun Apr 27th by Monty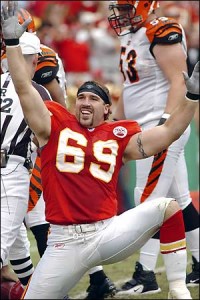 If you've been surfing around the interwebs like I have, you'll notice that every news outlet out there is already distributing out Day 1 grades for each pick. A well-documented habit of irrelevance, but that's not what we're going to discuss.
Upon viewing these grades, you may have noticed that the Kansas City Chiefs were consistently mentioned among the teams that did the best in the draft. With their three picks, they selected players who all could have been drafted higher and fell to them – not a bad haul, to be certain. Glenn Dorsey, perhaps the best defensive player in the draft. Branden Albert, with the versatility to move to LT according to most scouts. Finally DB Brandon Flowers had a first round grade by some teams, and it also addresses a position of need for the Chiefs.
So the Chiefs get an A in my book, too, right? I mean, how can you argue with such great value three times in the first day?
It's pretty simple really. The Chiefs should have never traded Jared Allen. Then they would have added Dorsey and Flowers today and really improved their defense dramatically.
Since the Chiefs used a 3rd round to move up and grab Albert, in essence the Chiefs traded Jared Allen for Branden Albert and a third round pick. Even if Albert turns into a Pro Bowler, it's a move that really doesn't take the steps forward necessary for a rebuilding team. The Chiefs just took three steps forward and four steps back, and they'll be reaping these "rewards" for years to come.