Posted Sat Apr 26th by Monty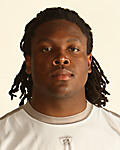 The Denver Broncos have made their choice – Ryan Clady, OT, Boise State. I argued yesterday that he was a player worthy of trading up to draft. In the end the Broncos did not need to. He fell to the Broncos at 12, and I couldn't be happier!
Keep up with us in the live blog/thread chat throughout the day!