Posted Fri Apr 25th by Monty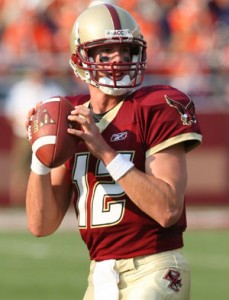 The Denver Broncos could see a slew of different options at 12 depending on how the first eleven picks pan out, but one things for certain: where Boston College QB Matt Ryan falls will have a bigger effect on their options than just about anything else.
There are thought to be three to four teams ahead of the Broncos who would be interested in Ryan (Falcons, Chiefs, Jets, Ravens). All of these teams are also likely considering drafting the best offensive lineman on the board, among other choices (with exception to the Jets, who just drafted D'Brickashaw Ferguson with a high first rounder 2 years ago). If Ryan goes early to the Falcons or Chiefs, it could easily start a domino effect that would see the Broncos losing out on one or two of the top tackle prospects left.
If Ryan escapes the first three teams and falls to the Ravens, many expect Baltimore to take the quarterback. A player like Ryan Clady (you knew it was coming) could easily fall to the Broncos then.
Meanwhile, the ultimate landing spot of USC DT Sedrick Ellis could have a big effect on the running backs available to Denver at 12. There are a lot of fans clamoring for a RB like Rashard Mendenhall or Jonathan Stewart; don't worry, we haven't forgotten about you.
If Ellis goes early (literally anyone before the Bengals could take him), teams like the Chiefs, Jets, Ravens, and Bengals could end up taking the 2nd running back on the board, leaving Denver with Stewart (which may be just what they want anyway).
The scenarios of who will fall to 12 are easily the most exciting, gut-wrenching parts of the draft. Will your guy fall to the Broncos at 12? Everyone is hoping for someone different – tomorrow we'll see who gets their wish!