Posted Thu Apr 17th by Monty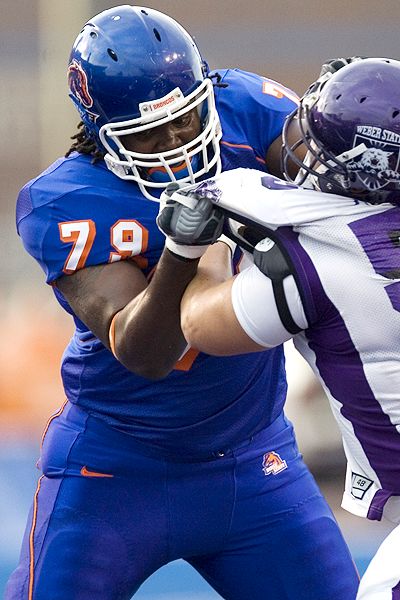 Today's three part series focuses on offensive tackle. We'll tell you why the Denver Broncos should use their first round choice in the 2008 NFL Draft on an offensive tackle, why they should not, then let you tell us with our fan poll. Enjoy!
When building an NFL football team, I'm a big believer in fortifying a few key positions first: a franchise quarterback, a dominating left tackle, and a dynamic, pass rushing right defensive end. The Broncos have Jay Cutler. They have a real pass rushing threat in Elvis Dumervil. But at left tackle, we're left with unknowns.
Matt Lepsis has retired, and in his wake has left a depth chart full of questions at his position. Ryan Harris is a promising prospect, and the coaches are said to be high on him, but they only have college tape and practice to rely on. Will he be fully recovered from his back surgery? Will it be something we have to worry about for years on end? Chris Kuper played decent at left guard, but I didn't see enough last year for me to believe he's the answer at LT. Erik Pears played poorly at RT.
I think there's a good chance one of these guys will become a really good tackle. But I don't count on finding two dominating tackles out of this group. The need is there.
What's more, this year's tackle class has been called by one NFL scout as the best in 24 years. Seems like a prime time for the Broncos to be near the top of the draft order, doesn't it? And here we sit at 12, the highest spot the Broncos have naturally landed in recent memory.
To me, quite simply, it seems foolhardy not to pick a tackle. It's among our biggest needs, and the value will be there with a good degree of certainty.
At the three positions of importance, I don't want just 'good enough.' I want perennial Pro Bowlers. Kuper and Harris strike me as the kind of guys that're just good enough to get the job done. I want more. I want Super Bowls. And I think the biggest step the Broncos can take in reaching that is to take either Ryan Clady or Chris Williams in the first round of this year's draft.