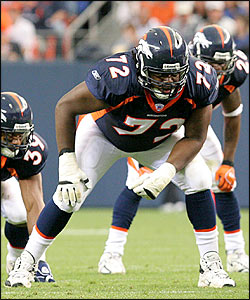 As we take a look back at all of the draft selections in Denver's history we have to peer in on the ugly as well. The Broncos draft class of 2003 sticks out as one of the poorest overall in any team's history. Which raises the question that titles this story, can we take a mulligan on that one? Of the 10 picks Denver had that year not one player resides on the current roster only five offseasons later. We will take a look at each player selected and what value the team received from the pick if any at all.
1st Round: George Foster, Tackle, Georgia 20th Overall – Foster anchored the Georgia offensive line of 2002 that was an integral part of their wins in the SEC Championship and Nokia Sugar Bowl. For his efforts Foster was nominated to the senior bowl and "had the skills all NFL teams desire" according to ESPN's Mel Kiper Jr. at the time. Denver Drafted Foster 20th overall expecting their franchise lock on the tackle position for years to come. The hope was for George to become a monster left tackle, keeping Bronco QB backsides clean but it never quite panned out that way. It took a full season and 3 games before he became a starter, playing all 16 games in 2005 and 2006 but was a decent right tackle not the all pro left tackle the front office thought they spent a first round pick on.
Foster was traded in March of 2007 along with Tatum Bell and a 5th round pick to acquire Pro Bowl corner Dre Bly. The value Denver received from this first round pick is still arguable. They did employ the services of a consistent RT for more than 2 seasons. The true measure of this may have to be given another season or two to be weighed. Bly's play will have to be that yard stick. Was one every game starter, a fallen out of favor starting halfback and a 5th round pick worth the former pro bowler in Bly?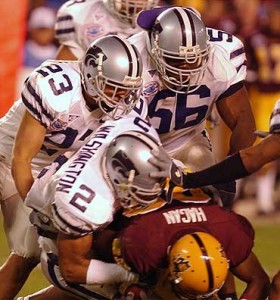 2nd Round: Terry Pierce, MLB, Kansas State 51st Overall – Pierce maybe the most perplexing pick on this list, maybe of the last 10 Bronco drafts. Mainly because we spent a mid second round selection on a position which at the time was being anchored by Al Wilson who had already made 3 trips to the pro bowl since being drafted in 2001. There were many theories applied to this selection. One being that Denver was preparing to convert to a 3-4 defense and could use two beasts at inside linebacker. The switch to a 3-4 defense never happened. This may be the best example of Shanahan's theory of taking the best player available at the time regardless of position.
Pierce didn't dress his first seven games as a Bronco, then played two games before tearing a pectoral muscle ending his rookie season. 2004 the coaching staff had him compete for outside linebacker against Jashon Sykes and Donne Spragan only to suffer a sprained MCL and lose his bid. Terry went on to have a great season as a special teams player. In the following season he was officially moved to OLB but was cut at the end of training camp.
Terry went on to workout with Seattle and Dallas but never latched on to a team. In 2006 Houston signed him only to turn around and cut him before training camp ever started. Value of this mid second round pick… terrible. We only received one season of good special teams play. Probably the most dissapointing aspect is the type of player Pierce was coming out of college and could've been for Denver. This especially stings when we drafted MLB depth and then lost Wilson in 2006 to injury.
4th Round: Quentin Griffin, HB, Oklahoma 108th Overall – Griffin started his career with the Broncos looking like another draft steal. He came out of college as a Big 12 first team selection. While he only had 5 starts in his first 16 games Griffin didn't fail to impress. He even set the franchise record for rushing yards in a season opener against the Chiefs in 2004. He was looking like a future star, even being compared to Barry Sanders. That all changed in week 7 when Quentin tore his ACL. He never made a full recovery the next season, failing to even climb up from the bottom spot on the depth chart. He was released in September of 2005. The following season Griffin signed with the Chiefs only to be cut once again in September. He is now playing in the Canadian Football League for Saskatchewan. Griffin can't really be called a bust coming out of round four, just another talent of 2003 we lost from early career injury. Like Foster we got 1-2 serviceable seasons from the back, but the value of this pick still has to be rated poor.
4th Round: Nick Eason, DT, Clemson 114th Overall – Eason was taken out of Clemson hoping to be the second coming of Trevor Pryce. He injured his achilles in training camp and never stepped on the field once for Denver. He was cut the following season, signed by Cleveland and now is a backup for the Steelers. He has less than 50 career tackles. What can you say for a guy only selected 6 picks later than Griffin and never once suited up for the Broncos? Pick value: miserable
4th Round: Bryant McNeal, DE, Clemson 128th Overall – Our second attempt for defensive line out of Clemson in 2003. We had to get one of these guys right, right? Wrong, McNeal was another injury riddled pick and was a perpetual bench warmer for the Broncos his rookie season. He was released in 2004 and has floated around NFL practice squads since. You would've thought the Broncos could strike gold after having 3 fourth round picks to work with, especially given their draft history but it wasn't to be. Pick value: miserable deja vu
Rounding out the pack: Two Fifth Rounders, One Sixth, and two more seventh rounders – Ben Claxton (center), Adrian Madise (WR), Aaron Hunt (DL), Clint Mitchell (DE), Ahmaad Galloway (HB) all played 2 years or less for Denver. Galloway being the only player of the bunch with value. Galloway was sent to NFL Europe as a prospect, played well but was traded to the Chargers for a draft pick the following season. For the simple fact that Denver couldn't even scrape a decent backup out of 5 picks in the late rounds this group also gets a very poor value rating.
Better options from 2003 Denver could've taken with their picks.
Round 1 – Boss Bailey taken with the second pick of the 2nd round by Detroit now a Denver Bronco
Round 2 – DE: Osi Umenyiora taken 5 picks after Pierce and helped lead the Giants to their Super bowl victory in the 07/08 season
Round 4 – CB: Terrance McGee taken 3 picks after Griffin and has been a solid starter for the Bills ever since
Round 4 – Asante Samual taken 6 picks after Eason. Turned out to be a star corner for the Patriots now a Philly Eagle.
Round 4 – Robert Mathis was taken by the Colts with the 3rd pick of round 5. 10 picks later than McNeal. This defensive end has started the last 4 seasons averaging 9 sacks each season.
I hate to harp on Denver for the 2003 draft too much because after all what you're really doing is rolling the dice. The Broncos even went on to the AFC Championship two seasons later so it couldn't have hurt the team too badly. It's probably not even fair to post possible could've been Broncos. But it is still a glaring misstep in building home grown talent for the team and can be given as an example of the current drafted talent disparity between Denver and rival San Diego.