Posted Wed Apr 16th by Monty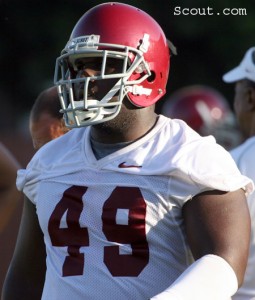 Every weekday leading up to the draft, BroncoTalk is breaking down the Broncos roster and the 2008 draft prospects, position by position. Each day we'll tell you why we should draft that position in the first round, why we shouldn't, and then ask you to tell us your thoughts. Today we're breaking down defensive tackle. Enjoy.
Is there a bigger need for the Broncos than defensive tackle? The only starter set in stone in 2008 is Marcus Thomas… but wait, even he has huge questions surrounding his off field incidents. Being in a vehicle with cocaine, passenger or not, is no way to ensure future seasons in the NFL. Is a league suspension looming? What is to happen with his ever-postponed court date? Can we really count on Thomas being on the roster in 2009? 2008?
Besides Thomas on the depth chart, we have Alvin McKinley and Josh Mallard, who's a DE/DT hybrid.  Both were serviceable at times last year, but neither can be called a reliable starter.
The need is there, both short term and long term, and when put so blatantly it's hard to argue it's not extreme.
Dewayne Robertson has to also be considered a factor here as well.  The trade talks have been going for over a month, and it looks like it will be a draft day trade.  Immediately he would become the best starter at the defensive tackle position, possibly on the defensive line as a whole.
Names to Know: Sedrick Ellis, Kentwan Balmer
Most Likely at 12: Kentwan Balmer
Arguments against drafting a DT, including a breakdown of the "names to know" in this draft, in a little bit.