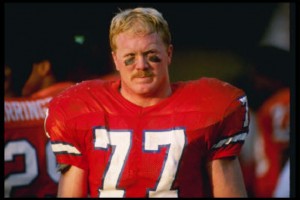 The buzz of the 1983 draft surrounded no other than Denver's John Elway.  Most Bronco fans have the details memorized.  Elway was drafted #1 overall by the Baltimore Colts, refusing to play for then Baltimore head coach Frank Kush and was traded to Denver in a blockbuster deal.  But the overshadowed great tale of the 83′ draft is that of Karl Mecklenburg.
Karl Mecklenburg's career could prove there is no exact science to draft day preparation for the scouts and coaches.  After 12 years in the orange and blue Karl's name is as synonymous to the Broncos as John Elway, who was drafted 309 picks earlier. – NFL Alumni, Rocky Mountain Chapter
Mecklenburg's rise to the NFL is an unlikely one.  Even though he was an all state selection in high school, he couldn't get a football scholarship to a Big 10 school.  He proceeded to attend Augustana College in South Dakota.  After two stand out seasons, he started to think about saving enough money to get into medical school, and the pros were his ticket.  Meck transferred to the University of Minnesota and made the squad as a walk on.  He continued his stellar college career, but garnered little interest from the pros even after ranking second in tackles for the conference.
To make matters even worse for Karl, the pro scouting reports out of the combine reported his stats wrong.  They listed him at 6′-1″ not his true 6′-3 1/2″.  They also reported his 40 yard dash as a slow 5.05 seconds.  But of all players taking the league's intelligence test at the time, Mecklenburg scored the highest of any.  This was the first item of many that brought him to the Broncos attention.
Mecklenburg caught the eye of Denver Broncos scouts his senior year in a game against Northwestern. While going through film of Wildcat Chris Hinton, the scouts saw Mecklenburg get two sacks off the All-American tackle. The Broncos wound up taking Hinton in the first round with the fourth overall pick. In the 12th and final round, with the 310th overall selection, the Broncos took Mecklenburg.  – Monday Night Football: Where Are They Now?
As the MNF article states, the Broncos took Mecklenburg in the 12th round, 310th overall in what is widely considered the greatest draft class of all time.  If you weigh that selection against his acheivements and stats listed below, I would consider that to be one hell of a draft steal.
6 Pro Bowls
3 Time First Team All Pro
Named the NFL's Most Versatile Player by Many Sports Writers
Played up to 7 defensive positions within one game
1104 Career Tackles
79 Career Sacks
16 Career Forced Fumbles
14 Career Recovered Fumbles
2 Career Defensive TDs and One Safety
Karl's own words to prospective low round draft picks:
"Take advantage of the opportunity you have. Be a great special team player. Enjoy playing football and be decisive on the field. No decision or slow decisions are always wrong."
I'll leave all you fellow Bronco fans with this last great nugget, again from the NFL Alumni Rocky Mountain Chapter:
If you're a Bronco fan, you'll surely remember the day Mecklenburg made his presence felt.  It was his 3rd year and the Broncos were playing against the Raiders.  Jim Plunkett threw a short pass to Marcus Allen who had looped out of the backfield.  Unfortunately for Allen, Karl arrived at the same time.  Within an instant Marcus laid at the feet of number 77, out cold.  Karl said he waited 10 more years for a play like that but it never happened.