Posted Thu Apr 10th by Monty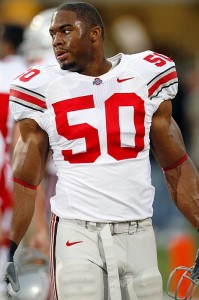 ProFootballTalk is reporting that the Oakland Raiders are strongly considering selecting defensive end Vernon Gholston with the 4th overall pick in the draft, in lieu of RB Darren McFadden. This, of course, to the disappointment of Broncos fans everywhere, who will now have to work hard to engineer a suitable nickname for the Raiders' #1 pick when "McFad" had presented itself so well.
Florio points out that this move could have a ripple effect:
"And if the Raiders pass on McFadden, look for the Cowboys to try to make a move north, possibly by trading their two first-round picks (No. 22 and No. 28 overall) to the Jets at No. 6 or the Patriots at No. 7."
Of the six prospects invited to the event, McFadden is easily the most likely to endure the annual draft day plunge. If the Raiders follow through with this, and the Chiefs take Sedrick Ellis, the Broncos better address OL on draft day early and often to counter these new in-division pass rush specialists.