Posted Tue Apr 8th by Monty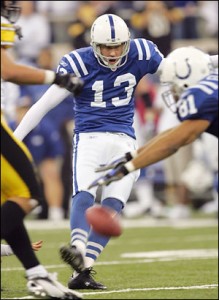 The Kansas City Chiefs worked out free agent kicker Mike Vanderjagt on Monday, and may consider signing him soon. In the meantime, the Broncos are also considering bringing in Vanderjagt for a workout, this according to ESPN.com's John Clayton.
Working on conditioning and kicking, Vandgerjagt, 38, didn't give up on his hopes of getting back into the NFL. The Broncos, who lost Jason Elam to Atlanta, are debating whether to bring him in for a workout. First, though, Vanderjagt will see if he gets an offer from the Chiefs.
Never been a big fan of Vanderjagt. I wouldn't mind if the Chiefs lock him up and let us focus on drafting a kicker in the fourth or fifth round.