Posted Tue Apr 8th by Monty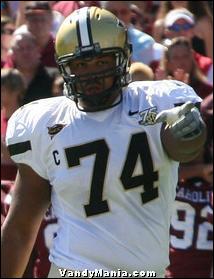 Pittsburgh Steelers director of football operations Kevin Colbert recently called this year's tackle class the best he's seen in 25 years. It's hard to argue; around 6 offensive linemen are speculated to go in the first round of this year's draft class. If you've been following the reports like I have, you'll notice that some of the names the Broncos are likely to consider have had their faults pointed out a little more heavily lately. Football Outsiders assures us: guys like Vanderbilt OT Chris Williams and Boise State OT Ryan Clady are more than worthy of our selection spot. Any bad news we're hearing lately is simply a matter of 'paralysis by analysis.'
NFLDraftScout.com Senior Analyist Rob Rang characterized it this way —
"The reality is that the scouting and certainly the exposure of these players is just so much more intense now than even a few years ago. Boise State's Ryan Clady is a perfect example. He might be the most athletic pass-blocker in this draft. Because he doesn't have dominant upper body strength, he's been characterized as a marginal run-blocker. While he isn't a commanding drive blocker, he can block on the move well and flashes some nastiness. The hype machine, however, takes over and characterizes him (and other tackles in this class) as being more one-dimensional than they really are."
Williams has been particularly affected by this phenomenon.

The pointman of Vanderbilt's line over the last two seasons, (Williams is) labeled by some scouting reports as a one-trick pass-blocker with an inadequate "mean streak" and an inability to run-block effectively. This despite his status as the most consistent lineman in the SEC from a grading standpoint and his status as the man the Commodores generally ran behind. Ignore the 102 knockdowns/key blocks, including 12 resulting in touchdowns in 2007 alone — the man is too athletic! There must be a problem!
The article focuses on Williams from then on, including plenty of quotes in their interview with the prospect. I definitely recommend you check it out.
If there's one thing I've learned while covering the draft for the Broncos, it's that Mike Shanahan loves prospects who come from competitive schools. No offensive tackle in this year's draft has faced more difficult challenges than Williams, and he's shown that he can handle the toughest college football has to offer. I'd be very happy if the Broncos can snag Williams at 12, and even happier if they can manage a trade down of just a few spots and still select Williams in the higher teens.
Chris Williams: Outrunning the Analysts [Football Outsiders]