Posted Fri Apr 4th by Monty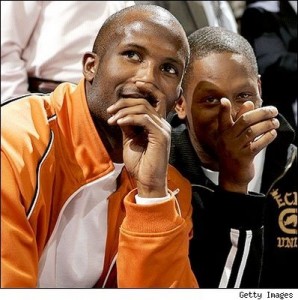 Yesterday, Champ Bailey went on the air of my favorite sports talk show and let loose. Really loose. In fact, I can't ever remember Champ being that candid about his thoughts on his teammates and the front office.
I have the interview recorded and plan on giving some direct quotes a little later today, but one of the things that stood out to me was his comments on Bengals wide receiver Chad Johnson.
Champ said that the Broncos need some playmakers on offense. He had a lot to say about Brandon Marshall – more on that later – but said he has a lot of faith in Jay Cutler if he has the right weapons. The radio hosts asked if he'd be interested in Johnson. Champ almost laughed as he told the hosts he's been recruiting Chad since the Pro Bowl.
Bailey emphasized Chad's work ethic in his comments. The hosts asked Champ if he had a problem with Ocho Cinco's touchdown celebrations. Bailey laughed that one off too, saying "not if he scores the points."
The Ocho Cinco situation is one big murky mess to me. I don't get it, I don't know why the media turned on him, and I've always been a fan of his. Is he a bad teammate because he dances in the end zone? No. Has he ever said he has a problem sharing the catches with T.J. Houshmandzadeh? No. The rumor that he punched coach Marvin Lewis in 2005 concerns me, but then I wonder why it's only coming out now?
Like Bailey said, it's "up to the front office," but I have to admit the thought of 85 in a Broncos uni excites me. You?