Posted Sun Mar 30th by Monty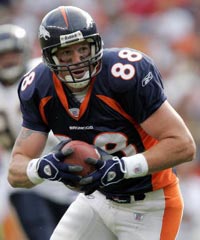 Former Broncos tight end Jeb Putzier appeared on Sirius NFL Radio Saturday, and to my pleasant surprise talked quite a bit about our Denver Broncos. After spending the past two years with the Houston Texans, Putzier signed a one-year deal with the Seattle Seahawks early in free agency. Undrafted Drafted in the 6th round in 2002, Putzier obviously remembers his 4 years in Denver well, as his interview spoke at length about his years in Mile High.
While I usually have the means to record these interviews, I was listening via a friend's radio and was unable to get it down. Sorry I can't provide real quotes, but I hope this synopsis will suffice.
Putzier was asked how important consistency was to a football team. You could tell he wishes he had a more steady situation himself, but that immediately brought him to the Denver Broncos. He basically told the interview hosts to look at the situation in Denver, and how much change had occurred in a mere two years. It was obvious to him that the huge overhaul each offseason was responsible for the team's lack of success in 2007. It's hard to disagree with him – as one of the recent Denver papers pointed out, there are only a handful of starters left from that 2005 AFC Championship team. It's sad to say the least.
Later in the interview, Putzier was asked about character in the locker room, and he immediately thought of Denver again. He talked about sharing a locker room with guys like Maurice Clarett while being situated across from or next to the likes of Rod Smith and John Lynch. While Clarett was unwilling to listen, guys like Smith and Lynch were always willing to help.
Good luck in your new digs, Jeb, and thanks for talking Broncos out of the blue.