Posted Thu Mar 27th by Monty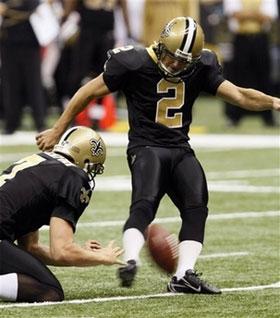 The search for Jason Elam's replacement has already begun, and the Broncos started by looking in free agency.
Veteran kicker Olindo Mare visited with the Broncos yesterday, and he left the Mile High city with a contract offer on the table. The Rocky Mountain News reports that Mare came away impressed with the Broncos, but is doing his due diligence and exploring other options.
The report indicates that the Seattle Seahawks and the New Orlean Saints (Mare's team in 2007) are both pursuing the unrestricted free agent.
He's 79.7% for his career in field goal attempts, and he's missed 5 PATs in 352 attempts. Mare dislocated his right hip in Week 14 of 2007 while tackling an opponent. He was placed on injured reserve following the injury, although it did not require surgery.
More stats and a quick scouting report after the jump.
Last year was perhaps Mare's worst as a pro: finishing 10/17 on the year, Mare received some intense criticism for his performances on the field (and his lack of accountability in post-game interviews afterward). One article in particular really ripped on Mare in his first year as a Saint.
Mare has the leg strength that Elam has been lacking, but one seriously has to doubt if he can regain his accuracy. Whether he ends up signing the offer sheet the Broncos gave him or not, it's hard to believe he's the long term answer at kicker for the Broncos. He's an upgrade over Matt Prater to be certain, but I believe the Broncos would be wise to spend a mid-late round draft choice on a kicker whether Mare signs or not.