Posted Tue Mar 25th by Monty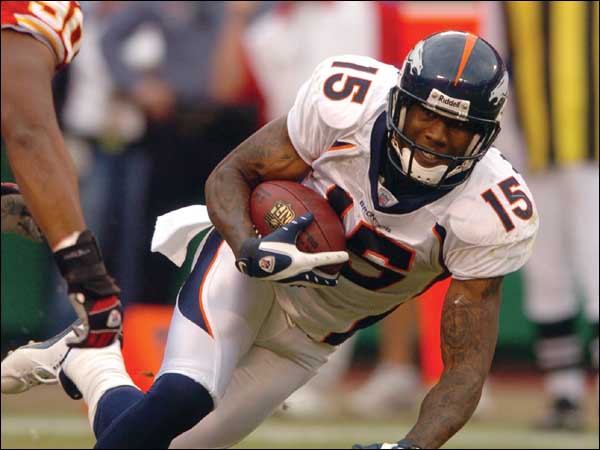 For all the news Brandon Marshall has been making surrounding his "Big Mac Attack" (now it's a combination of family horseplay and a McDonald's bag, BTW), we're reminded that he's still among the league's elite receivers. In ESPN Scout Inc.'s recent list of the league's 64 best receivers (it's a free preview, so no membership needed to view), Marshall was listed 14th. Which is entirely too low, in my opinion, but ultimately justified with only one breakout season to consider.
Marshall is one of the best young receivers in the NFL. He is a big, physical receiver (6-4, 230) who places a lot of pressure on a secondary. He has the strength to separate off the line of scrimmage and the speed to attack all levels. He has strong, soft hands and is one of the best in the NFL after the catch.
Marshall and draft classmates Marques Colston and Greg Jennings are the youngest receivers listed in the top 20 (young being league experience), with Colston right behind Marshall at 15. Brandon Stokley also makes the list at 59.
A closer look at the list (including around the West) after the jump.
Randy Moss, Terrell Owens, and Steve Smith top the list. Meanwhile, several AFC West foes make the list (none of them ranked as high as Marshall).
Raiders – Our old friend Javon Walker finds himself ranked 29th. That's fine I guess. Ronald Curry ranks at 54 (ahead of Stokley?!).
Chiefs – 2007 first rounder Dwayne Bowe is ranked 21st. Quite a bit too high if you ask me, but he didn't have much of a quarterback in his rookie year to be certain.
Chargers – New trade acquistion Chris Chambers sits at 28, while Vincent Jackson's breakout year in 2007 helps him reach 39th.