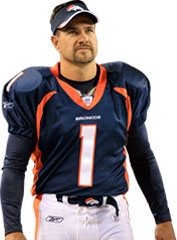 Update (2/10/13):  This article is over four years old but has been getting a lot of traffic in resent days, we assume because of Elam's appearance on the TV show "Buying Alaska".  For more on Elam's current status, go here.
The Jason Elam-Broncos relationship of 15 years, predating the Mike Shanahan era by 2 years, has ended. The Denver Post reports that Elam has declined a deal with the Broncos in preference of a 4 year, $9 million dollar deal with Atlanta.
Denver had offered Elam a 3 year, $7 million dollar deal (notably worth more money per year). The dealbreaker was likely the "guaranteed" money involved, along with a long contract to possibly finish his career.
Elam is the Broncos franchise leader in points scored and games played with 236, two more than John Elway.
First on deck for the Broncos would be Matt Prater, the kickoff specialist holdover from last season. The Denver Post also speculates that the Broncos could look into free agency where Olindo Mare and John Carney are currently available.
Drafting a kicker this year is another likely option. Top kickers available this year include Taylor Melhaff out of Wisconsin and Brandon Coutu out of Georgia.
Elam bolts for Falcons [Denver Post]
[Updated 3:15 pm – Kyle] A kicker is a kicker, but we're talking about one of the most significant players in Broncos history. We're very sorry to see Elam go. Good luck in your future endeavors.