Posted Sat Mar 22nd by Monty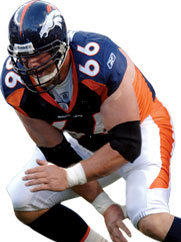 The Denver Broncos are at a bit of a crossroads as a team. Call it a youth movement. Across the board, a transition is taking place from older, veteran leaders to young playmakers. One only has to look at the free agency moves made this offseason, particularly at linebacker and safety, to notice the changes taking place all run with a consistent theme: out with the old, in with the new.
One unit in particular that is about to embark on this youthful transition is the offensive line. LT Matt Lepsis, who joined the Broncos undrafted during our Super Bowl years, has retired. With both C Tom Nalen and LG Ben Hamilton in their 30's (Nalen remarkably closer to 40 than 30), and both coming off season-ending injuries, the Broncos have been readying themselves for an offensive line that barely resembles the unit they've put on the field for the better part of a decade.
The transition is tricky, though. Even our younger players, who many hoped would be the future of our offensive line, are parting with the team. The obvious and all-too pertinent example is Chris Myers, who was traded for a 6th round draft pick to the Texans after an up-and-down season starting at LG and C. Did any blueprint for the future of the Broncos offensive line NOT include Myers holding down the center spot? It would certainly be hard to find.
From what I'm told by different people, the Broncos were willing to let Myers go for several reasons. They liked his upside, but thought the upside of practice squad player Mark Fenton, a rookie last year, was just as great. One person I spoke to said the Broncos are "high" on Fenton; another told me that the Broncos believed Myers and Fenton were "the same guy." The Broncos signed Fenton to a future contract the day the season ended – he'll compete for a roster spot in training camp, and it appears it's his to lose. Of course, the ultimate decision to let Myers go came because the Broncos weren't willing to give a backup player starter money.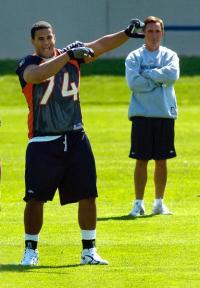 Meanwhile, the tackle position is the biggest question mark across the board. With Lepsis' retirement and the disappointing season by RT Erik Pears, it's arguably the biggest hole on our roster. From what I'm told, the Broncos are extremely high on 2007 third round pick Ryan Harris out of Notre Dame. The LT spot is his to lose, and Pears would likely hold his position on the right side.
Mike Klis, who covers the Broncos for the Denver Post, even appeared on ESPN First Take this morning and said that the Broncos were high enough on Harris to skip a first round offensive tackle (specifically saying the Broncos hope to trade down). I haven't seen Harris in real-game action (at least not at the NFL level) – he was hurt in training camp last year after undergoing back surgery, and I don't believe he even played a preseason snap (if my memory serves me). For now, fans like me have to take the Broncos' word for it.
Even if their claims are true, bringing in first round tackle talent could only help the Broncos. Last time I checked, there are two tackle positions on every football team, and Erik Pears isn't the answer, at least not for me. I'm pushing for Ryan Clady out of Boise State myself. Here's a big guy with a ton of athleticism and potential in our system (full scouting report).
I also noted that Orange Mane member Kaylore, who does a great job covering training camp for the site each year, dropped a hint a week or so ago that G Chris Kuper may get a chance to compete for a tackle spot. Definitely something to keep an eye on.
Paving the Way
If I had my way, here is what the Broncos would do to bring the o-line back to greatness (LT … RT):
In 2008:
Harris – Hamilton – Nalen – Holland – Pears/Clady (midseason switch)
In 2009 (assuming Nalen retires):
Clady – Kuper – Hamilton – Holland – Harris
That group there, my friends, is the type of offensive line that strikes fear into the heart of opposing defenses. Give Jay Cutler that type of protection, and give our running game that type of blocking, and watch the Broncos offense become unstoppable again.
Everyone has their own beliefs on how to build a football team. Mine has always started with the offensive line – give a team this type of talent, and extraordinary things will happen.
For the Broncos, it's a step in the right direction. They claim they want to build through the draft – they should begin in the trenches. Build an offensive force that leaves no prisoners. That's how to return to the upper echelon teams in the NFL, and ultimately, a Super Bowl title.